News Articles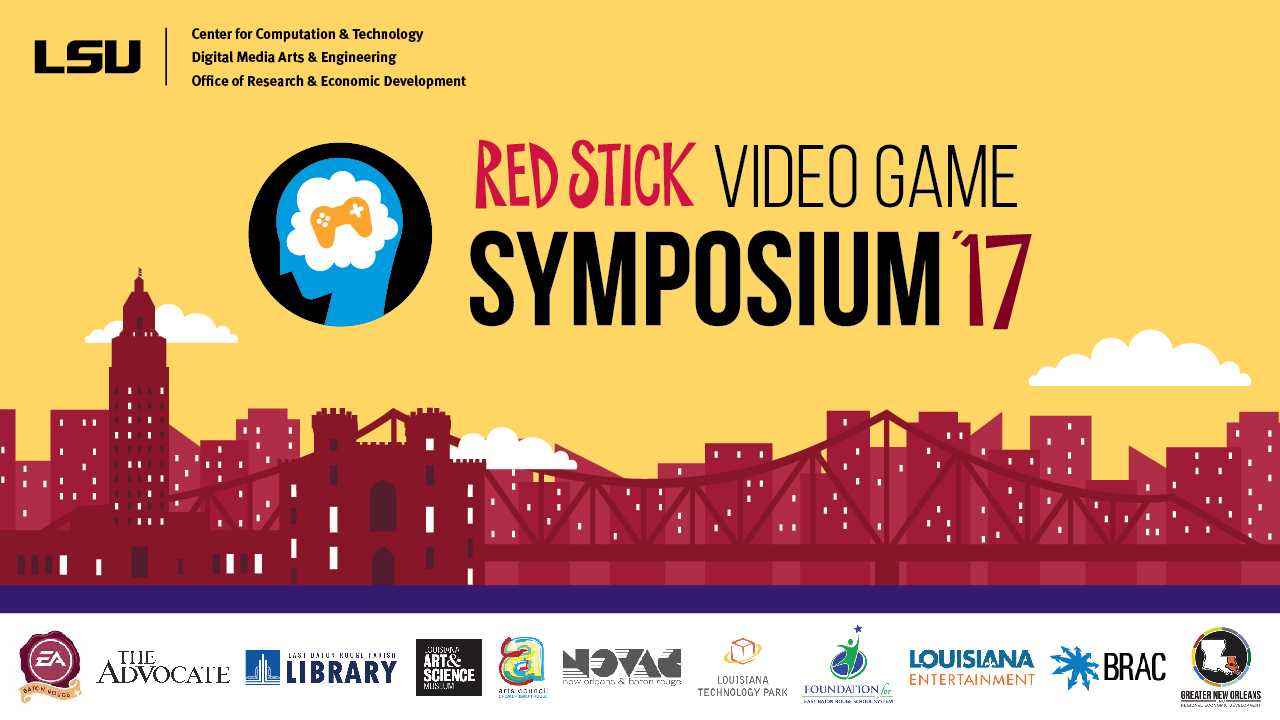 Marc Aubanel
maubanel@cct.lsu.edu
Director, LSU Digital Media Arts & Engineering
Redstick Video Game Symposium 2017 Schedule Announced
April 21, 2017
Louisiana State University
---
The Redstick 2017 Video Game Symposium has our special guests appearing twice both on Thursday and Friday if you want to find out the latest in the video game field.
Thursday April 27th
10:00 - 11:30 am, LSU Art Building, Room 330
Tad Leckman - Finding Your Place in Digital Production: Games, Animation, VFX
Studios that create video games, animation and visual effects are full of artists, engineers, designers and producers. But they also employ editors, trainers, DBAs, social scientists, data analysts, archivists, writers, and managers. Roles that used to be unique to visual effects are now in demand by game developers. Tools that used to only be part of a game pipeline are now part of making tv animation. Figuring out where you might fit in requires you to know not only what you want to do, but also what the possible roles are, and what studios are even out there. Tad will discuss the current digital production landscape, immediate and upcoming needs across the industry, and even some opportunities that you didn't know were out there.
12:30 - 1:30 pm, LSU Art Building, Room 330
How do you know when a game looks good? It's subjective, and your very first impression of whether you like the game or not is based on what it looks like. Making great looking games starts with developing a critical, discerning eye. In this presentation I share what my eyes have learned over the past 25+ years working in film visual effects, television, games and feature animation. By exercising your eyes and using the helpful tools and tips I present you can apply these same principles to make great game visuals.
1:45 - 3:00 pm, LSU Art Building, Room 330
Game Art technology trends for the next 10 years. Mike Swanson will share his opinions and experience on what Art technology trends will dominate the gaming industry over the next 10 years. The focus will be directed at High-end PC and VR technology.
3:15 - 4:45 pm, LSU Patrick F. Taylor Hall, Room 1124A
Jeff Skelton - Game Development for Large Teams
Jeff Skelton is giving a brief talk and workshop. His talk will be multi-faceted. Come and hear about his career, the challenges of large AAA development teams, EA Frostbite, EASTL and a coding workshop. If you are interested in working for any large engineering firm or game company this talk is a must see. The workshop will entail some programming challenges for seniors who are up for CS students who are up for a gauge on where they stand professionally.
4:30 - 5:30 pm, LSU Digital Media Center, Theater
Robin Leboe and Rick Beaton - Sessionwire Demonstration
Come see an alpha demonstration of the latest disruptive software meant to shake up the music industry. Robin and Rick will discuss how they see the future for audio professionals and a toolset that will help them navigate the future.
5:00 - 6:00 pm, LSU Patrick F. Taylor Hall, Room 1124A
You never know what to expect when Chris talks about his career and games he has worked on. Come listen to his adventures with game development that spans a career to is nearly 30 years in the making. Chris has been a designer, engineer, ran his own studios and has seen the industry from as many perspectives as a person can. Chris is not only a talented game developer but a terrific storyteller; this is a must see presentation.
Friday April 28th
10:00 - 1:00 pm, LSU Digital Media Center, 1st Floor
FutureFest
Features Student Projects in digital art, video games and animation - sign ups are now being accepted! In conjunction with the FutureFest event, The best and brightest in the Digital Media industry, both internationally and locally, will be onsite to provide their feedback on your projects.
1:05 - 1:35 pm, LSU Digital Media Center, Theater
Long Time Listener, First Time Caller - Future of Music with sessionwire and LSU faculty
1:35 - 2:00 pm, LSU Digital Media Center, Theater
Musings about the Games Industry - Chris Taylor
2:00 - 2:30 pm, LSU Digital Media Center, Theater
Tools of the Trade with Tad Leckman and Mike Swanson
2:30 - 3:15 pm, LSU Digital Media Center, Theater
The Rogue Initiative VR Demonstration
3:30 - 4:15 pm, LSU Digital Media Center, Theater
VR Panel - Blurring Reality with Scott McPherson, Henry LaBounta, Cathy Twigg, Pete Blumel, and Jeff Skelton
4:15 - 5:00 pm, LSU Digital Media Center, Theater
Gaming & Gumbo - What is happening in VR in the State of Louisiana
5:00 - 6:00 pm, LSU Digital Media Center, Theater
Inside the Amoeba - Scoot McPherson AR,VR,TV extravaganza