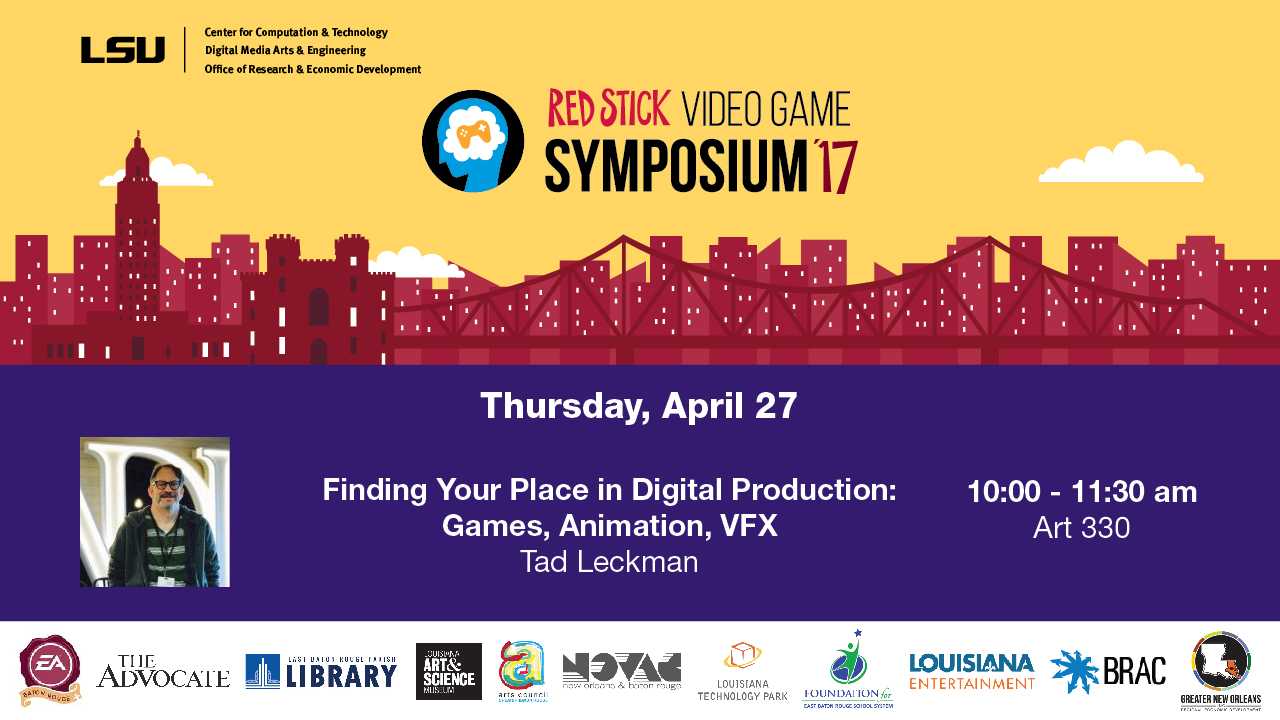 April 27, 2017 - Invalid date
Tad Leckman - Finding Your Place in Digital Production
Room 330
LSU , Art Building,

Baton Rouge
April 27, 2017 - 10:00 AM until:
Invalid date - Invalid date
Studios that create video games, animation and visual effects are full of artists, engineers, designers and producers. But they also employ editors, trainers, DBAs, social scientists, data analysts, archivists, writers, and managers. Roles that used to be unique to visual effects are now in demand by game developers. Tools that used to only be part of a game pipeline are now part of making tv animation. Figuring out where you might fit in requires you to know not only what you want to do, but also what the possible roles are, and what studios are even out there. Tad will discuss the current digital production landscape, immediate and upcoming needs across the industry, and even some opportunities that you didn't know were out there.
Tad Leckman Bio: Now based in Southern California, Tad has been responsible for story development and art education at Blizzard Entertainment and Riot Games. Tad is currently a Research Fellow for the UC Santa Cruz Division of Arts.
Tad Leckman's first job in the entertainment industry was working as an apprentice model maker, working for Emmy Award winner Jim Dow in 1987. After building miniatures and painting sets for a number of commercials, Tad attended UC Santa Cruz, where he studied English Literature with an emphasis on cinema studies. After graduation, Tad's diverse career has included time spent in both production and education. As a digital artist at Lucasfilm's Industrial Light & Magic, Tad served as Production Manager and Pipeline Architect for the studio's "Rebel Mac Unit" as well as supervising the creation and operation of ILM's previsualization team for both visual effects and feature animation.
Tad has taught at Academy of Art University, NYU's Center for Advanced Digital Applications, and Savannah College of Art and Design where he also served as Chair of the Visual Effects BFA and MFA programs.
Tad returned to Lucasfilm as Director of Training at Lucasfilm Singapore, where he oversaw the creation of the Jedi Masters Program, which enabled the rapid expansion of the Clone Wars, ILM and LucasArts teams.
Tad's credits include: Star Trek First Contact, Men in Black, Frankenstein (Unproduced Universal Digital Feature), Space Cowboys, Galaxy Quest, Tim Burton's Planet of the Apes, Terminator 3, Clone Wars, Rango, and cinematics for Diablo III, World of Warcraft, StarCraft II, Hearthstone and Overwatch.