News Articles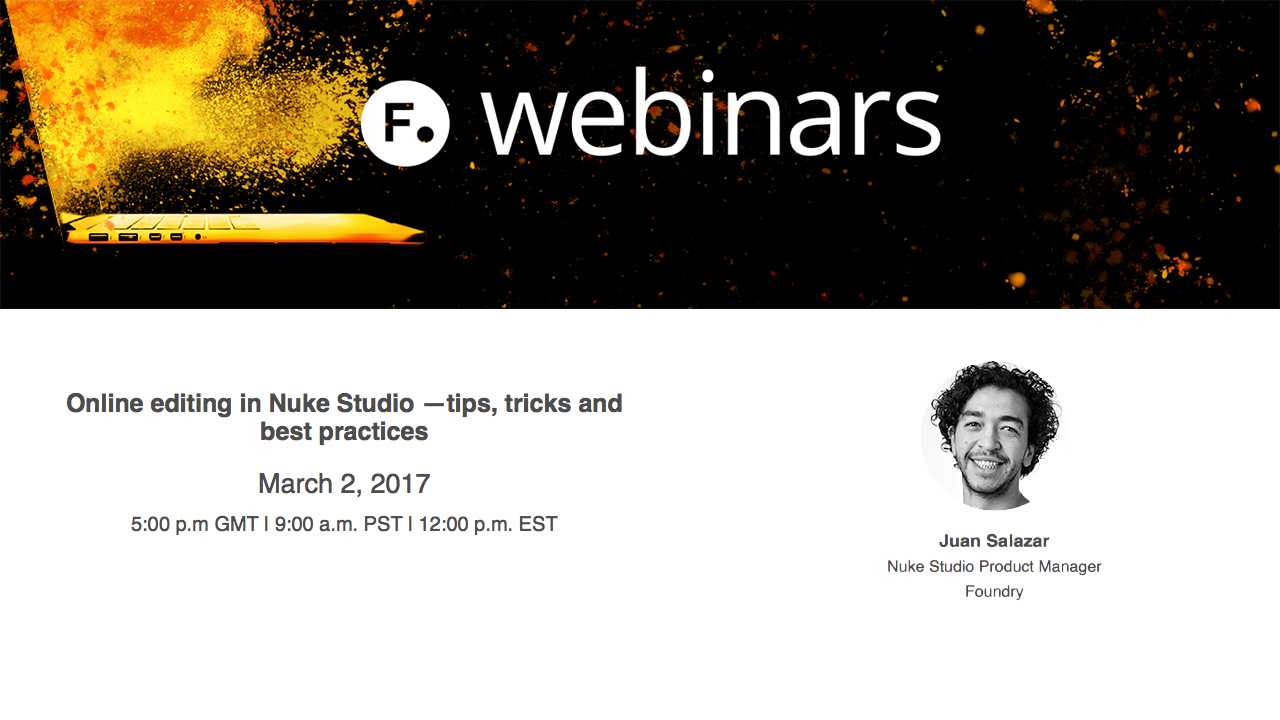 Marc Aubanel
maubanel@cct.lsu.edu
Director, LSU Digital Media Arts & Engineering
The Foundry Online Editing in Nuke
February 21, 2017
Louisiana State University
---
Online editing in Nuke Studio —tips, tricks and best practices
The Foundry is hosting a webinar on March 2nd, 2017 at 11:00 am Central Time. [Save your seat](http://go.thefoundry.co.uk/2017-Webinar-series-2?utm_source=eloqua&utm_medium=email&utm_campaign=2017-Webinars&elqTrackId=1508071263f047d79763bd9ae4cd5757&elq=1c7a65809ec14a6f99a964cdc23ef136&elqaid=2471&elqat=1&elqCampaignId=1928) and join Juan Salazar, a Nuke Studio Product Manager at The Foundry, now!
Got questions about online editing in Nuke Studio?
I'll be answering anything you need to know in a live Q&A session, following the upcoming rebroadcast of my popular webinar: Online editing in Nuke Studio —tips, tricks and best practices.
Join me for the webinar, and I'll show you how to get the most out of Nuke Studio for online editing and prepping VFX shots.
Topics will include:
An introduction to the interface.
How to setup your project.
An overview of media bins and media management.
A guided tour of basic editorial tools that includes preparing plates for compositing, using annotations and tagging shots for distribution.
Afterwards, I'll be answering all your online editing questions in a live Q&A session immediately following the webinar presentation.