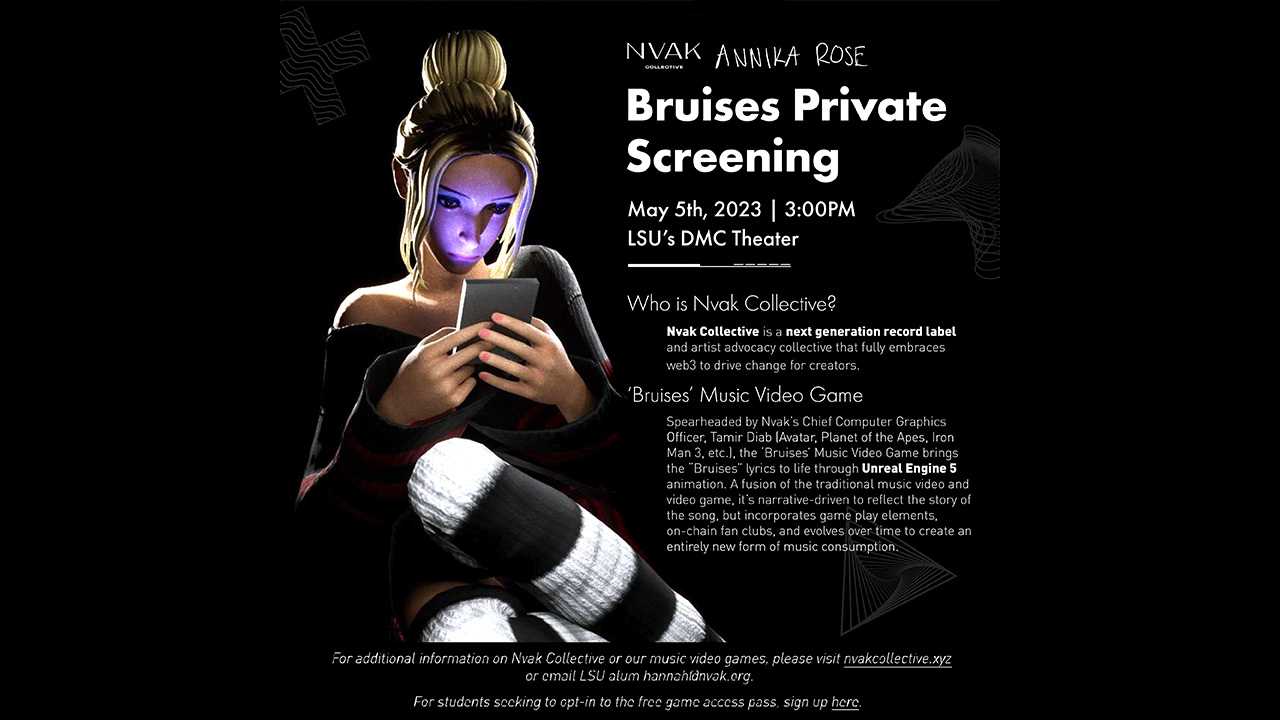 May 05, 2023
Virtual Space and the Music Industry
LSU Digital Media Center Theater
340 E Parker Blvd,

Baton Rouge
May 05, 2023
3:00 PM - 4:30 PM
LSU is taking part in a national virtual tour and discussion with the Nvak Collective.
The Nvak Collective is a next generation record label and artist advocacy collective that fully embraces Web 3.0 to drive change for creators.

Nvak Collective is rebuilding the music industry from the ground up by restructuring how IP is created, managed, and monetized. Using blockchain technology and NFT Collections we pool global talent and rethink the way music creators are signed, developed, and scaled.
They are cofounded by Record Producer and Songwriter, Alex Salibian (Harry Styles, Young the Giant, etc.), and Computer Graphics Supervisor, Tamir Diab (Avatar, Iron Man 3, etc.). They are working in Unreal 5 and are creating narrative-driven experirences that tell the story of a song from the artist's perspective. They are incorporating interactive game play elements to drive direct-to-fan engagement in new ways. You can view the teaser here of what it will be like.
The artist they are featuring is Annika Rose with the song Bruises. being augmented to an interactive experience They are currently presenting to Universities across the country on the interseciton of Music, Video Games and VFX. Come take a sneak peak to see what they are developing before they wrap up at the end of this semetser.
Join us at the Digital Media Center's large Theater on May 5th at 3:00 pm and hear what they are developing as well as experience their first production shipped in this new medium.
You will also be able to join on Zoom if you can't make it in person. If you want a free access pass you can opt in here.