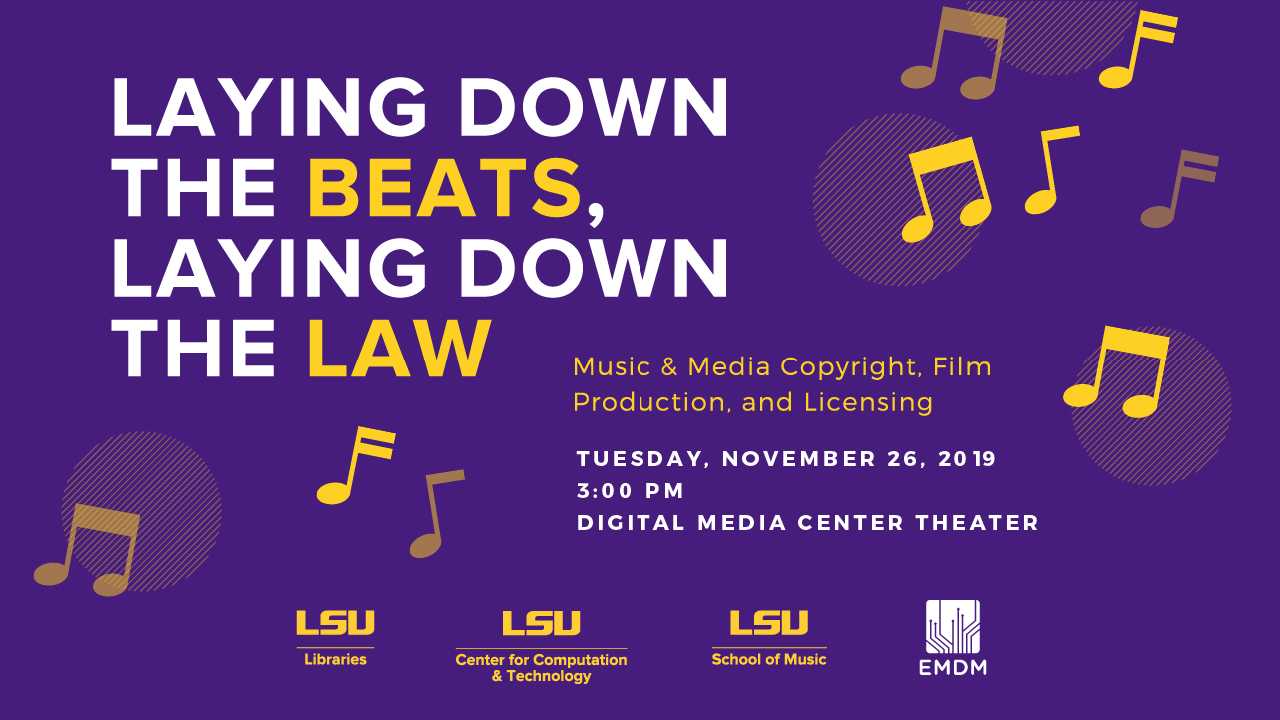 November 26, 2019 - Invalid date
Laying Down the Beats, Laying Down the Law
Digital Media Center Theater
340 East Parker Blvd.,

Baton Rouge
November 26, 2019 - 3:00 PM until:
Invalid date - Invalid date
A presentation and Q&A with Gerald T. Olson and Darcee Olson that will answer questions for:
Everyone who makes music and would like to make a living.

Anyone who uses music in the production of their films, video games, dance productions, theatrical performances, youtube videos, podcasts, advertising, and more.
Tuesday, Nov. 26 @ 3PM Digital Media Center Theatre 340 E. Parker Blvd.
More Info:
Gerald T. Olson, Jr. holds an MFA in film production and is currently teaching film production at Academy of Art University in San Francisco. Prior to teaching, he was a studio executive at HBO and New Line Cinema. He has produced and directed many films including Nightmare on Elm Street, Dumb and Dumber, House Party, and The Rundown. An active mentor, he has opened doors for current and former students to work on professional films.
Darcee Olson J.D., is Copyright and Scholarly Communications Policy Director at Middleton Library, Louisiana State University. She has 20 years experience in film and television, including Fox Television, Contracts Department, and the MPAA, International Copyright Division. Her legal studies included 3 terms at the Program in Comparative Media Law and Policy at Oxford University, focused on copyright law and policy. Prior to coming to LSU, she taught business and legal studies at an arts college in San Francisco.