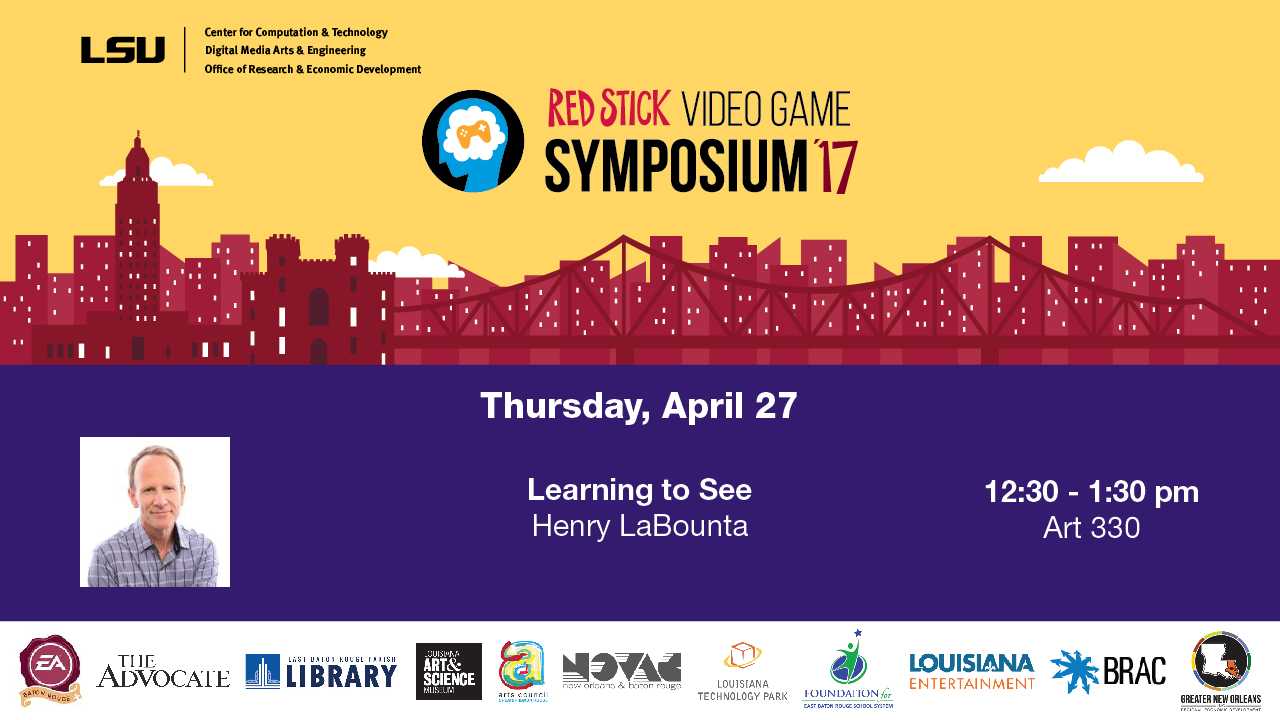 April 27, 2017 - Invalid date
Henry LaBounta - Learning to See
Room 330
LSU Art Building,

Baton Rouge
April 27, 2017 - 12:30 PM until:
Invalid date - Invalid date
How do you know when a game looks good? It's subjective, and your very first impression of whether you like the game or not is based on what it looks like. Making great looking games starts with developing a critical, discerning eye. In this presentation I share what my eyes have learned over the past 25+ years working in film visual effects, television, games and feature animation. By exercising your eyes and using the helpful tools and tips I present you can apply these same principles to make great game visuals.
Henry LaBounta Bio: Academy Award nominee Henry LaBounta has over 25 years of entertainment experience in games, film visual effects, feature animation and television. Most recently at Zynga he held the position of Chief Visual Officer.
Prior to Zynga Henry was a Partner/Senior Art Director at Microsoft Studios working with the Xbox One launch team and multiple internal game teams. Henry started in games as a Senior Art Director at Electronic Arts on "SSX3″ and wrapped up his work there art directing "Need for Speed Hot Pursuit" at Criterion Games. Henry's game contribution credits include "Skate", "Skate 2″, "NBA Street", "Need for Speed Hot Pursuit 2″, "Need for Speed Most Wanted", "Burnout Paradise" and many EA Sports games. Henry is also the Chairman of the board of the San Francisco ACM SIGGRAPH chapter. Henry began his career in New York doing animation work for commercials and network television before moving to film visual effects and feature animation. At PDI/DreamWorks Henry was Visual Effects Supervisor for the Steven Spielberg films "Minority Report" and "A.I." as well as "Mission Impossible 2″ and "The Prince of Egypt". At Industrial Light & Magic his film work included "Star Trek VII Generations", "Casper" and "Twister" for which he won a BAFTA award and was nominated for an Academy Award for Best Visual Effects.