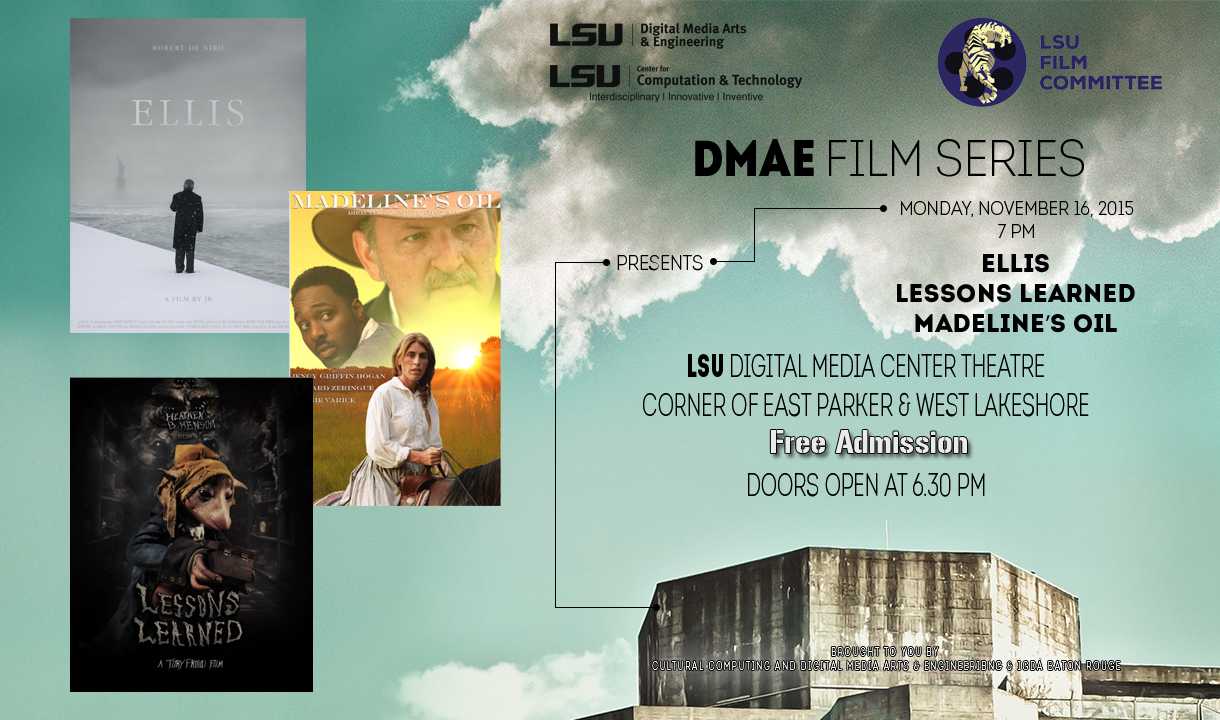 November 16, 2015 - Invalid date
Ellis, Lesson's Learned, Madeline's Oil
DMAE Film Series
DMC Theater
LSU , Digital Media Center (DMC),

Baton Rouge
November 16, 2015 - 7:00 PM until:
Invalid date - Invalid date
It is not very often that you get to view short films and the venues for filmmakers are limited. Join us on November 16th for three short films.
Director Zak Penn will be answering questions about the movie or his other work before the screening of the film. Zak is an established screenwriter who has written on X-Men: The last Stand, The Incredible Hulk and the upcoming Ready Player One.
"Ellis, a fourteen-minute film directed by JR and written by Academy Award winner Eric Roth, tells the elusive story of countless immigrants whose pursuit of a new life led them to the now-shuttered Ellis Island Immigrant Hospital. Following its opening in 1902, approximately 1.2 million people passed through the facility, where the Statue of Liberty can be seen from the windows. Languishing in a sort of purgatory awaiting their fate, many were never discharged." - tribecafilm.com
"Toby Froud's New Puppet Film Returns Us to the Magical World of 'Labyrinth' and 'The Dark Crystal' The baby from 'Labyrinth' grew up to make his own fantasy film, and if the sold-out world premiere is any indication, audiences are ready to return to the enchanting realm of puppet goblins, faeries, and imagination."
"Lessons Learned screened as part of three puppet shorts produced by Heather Henson's company, Ibex Puppetry, for its Handmade Puppet Dreams film series. It's worth noting that the second short, "Melvin the Birder," was a charming paper cutout work also created by Portlanders, Beady Little Eyes Productions, about a birder's quest to photograph the elusive Mustard Billed Wood-pecking Belly Wiggler." - Aaron Scott - pdxmonthly.com
"Madeline's oil is a moving short film that follows the turning point in the lives of the 1800's Louisiana family. The strong heroine of the family does whatever it takes to save her daughter Madeline. Part American Western drama and part complex family saga, Madeline's oil delves into deep topics like love, racism, death, hate and dysfunction with realistic dialogue and lovable characters. It's a film that is sure to leave a lasting impression on audience members of all ages." - imdb.com