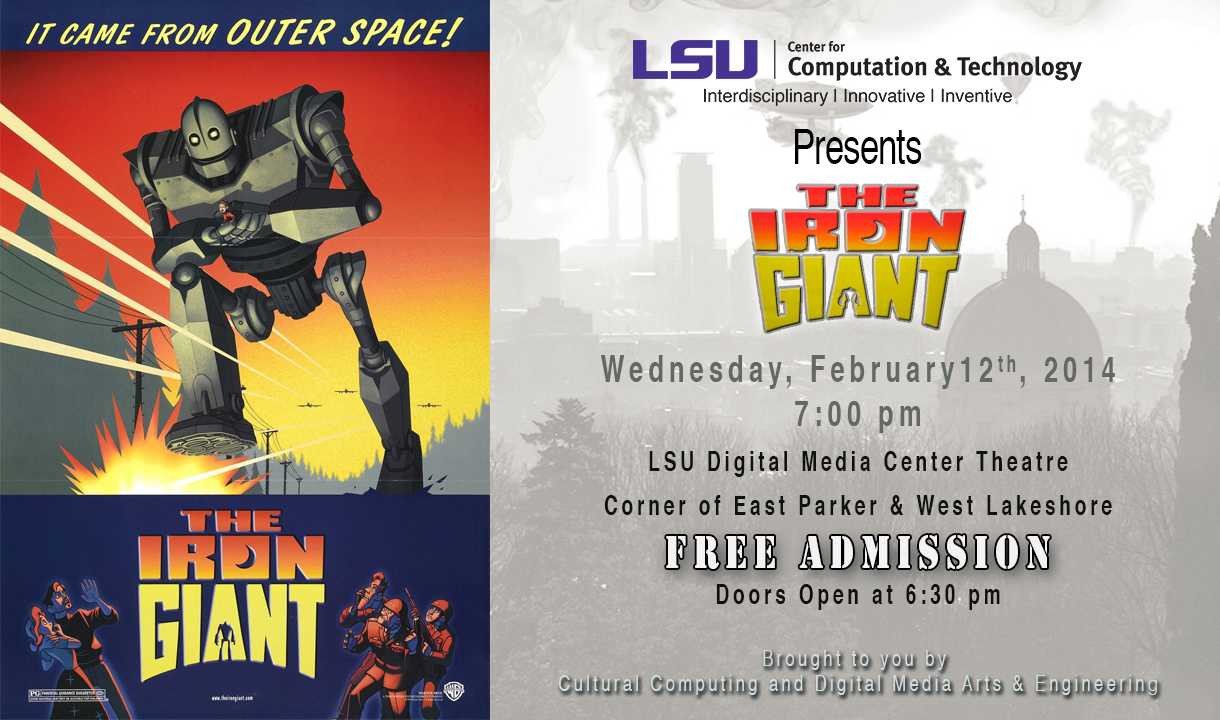 February 12, 2014 - Invalid date
Iron Giant
DMAE Film Series
DMC Theater
LSU , Digital Media Center (DMC),

Baton Rouge
February 12, 2014 - 7:00 PM until:
Invalid date - Invalid date
DMAE Screening: Iron Giant
Next Screening: Wednesday February 12th, 2014; 7:00 PM (doors open at 6:30 PM)
Film Title: Iron Giant
Where: Digital Media Center Theatre
Digital Media Arts & Engineering and Cultural Computing at the LSU Center for Computation & Technology, is happy to present Iron Giant Wednesday, February 12, 2014, at 7:00 PM, at the LSU Digital Media Center Theatre. Doors will open at 6:30 pm. The showing is free, open to all and seating is on a first come first serve basis—so come early to guarantee a good seat. Please remember that no drinks or food are allowed in the theatre.
Plot Summary
"We live in a strange and wondrous time," says a character in the animated film The Iron Giant, "but there's a dark side to progress." This pithy tagline, delivered in the middle of an ersatz-Red Scare sermon, goes by with such putative wholesomeness that we don't immediately align its wisdom with the movie's more tender carpe diem and altruistic themes.
Set in a gentle appropriation of the 1950s where quasi-beats run suburban scrap yards and single parents can still effectively child-rear in workaday absentia, The Iron Giant isn't a Cold War allegory so much as an Americana fairy tale; like a younger, slightly more gullible sibling of Donald Fagan's nostalgic concept album The Nightfly, the movie swallows the myth of the era's Wheaties-style sincerity with a grinning gulp. It was based on a British novel, and inspired by a musical adaptation by the Who's Pete Townshend, but smartly reconfigured from nearly the premise upward by Bird and screenwriter Tim McCanlies.
Bird's often praised as a storyteller par excellence; The Incredibles was nominated for a screenwriting Oscar, and his obsessive fidelity to plot arc in early Simpsons episodes organized and sharpened the program's distinctive humor. But The Iron Giant's apparent looseness in spite of its brevity might be his most impressive writerly achievement. As Hogarth and his gargantuan buddy hide out in the scrapheap sanctuary of local hipster and aluminum sculptor Dean (Harry Connick Jr.), their meandering lakeside playtime produces quiet, personal breakthroughs. Hogarth loves the giant, so he instructs and fosters its struggle for agency against manipulative programming; the giant's agape toward Hogarth is strangely like that of a thankful Adam who's just partaken of the forbidden, eye-opening fruit. (Hogarth makes good and evil so attractively simple as a choice between Superman and the evil comic-book automaton Atomo that the giant retracts his unstoppable, self-repairing arsenal.) The giant's final sacrifice in the face of unintentional, U.S.-initiated nuclear holocaust is the triumphant inverse of Dr. Strangelove's smirking masochism: What we love most are the things that protect us from ourselves." - Joseph Jon Lanthier Slant Magazine
Relevance The Iron Giant is an animated science fiction film that combined traditional and computer animation. The giant was the only major 3D element in the film. The rendering was done to match the style of the hand drawn 2D animation. The marriage of 2D and 3D is no easy task. Getting a computer to create a more organic, gritty naturalistic look was a significant creative and technical achievement.The film was a critical success but a commercial flop at release and gained prominence when released on DVD. 15 years after its cinematic release the movie stands out on its own in contrast to the bevy of 3D flashy animated releases. One of the influences for the art direction in the film was Thomas Hart Benton whose work is strongly associated with the midwest and was a part of midcentury modernism.
Guest Speaker Clint Gamble graduated in 2012 from the Art Institute of Vancouver and has been working at Nercorps Entertainment as an animator on MaxSteel and on titles in development. Clint will be talking about the role of an animator working on episodic television productions.