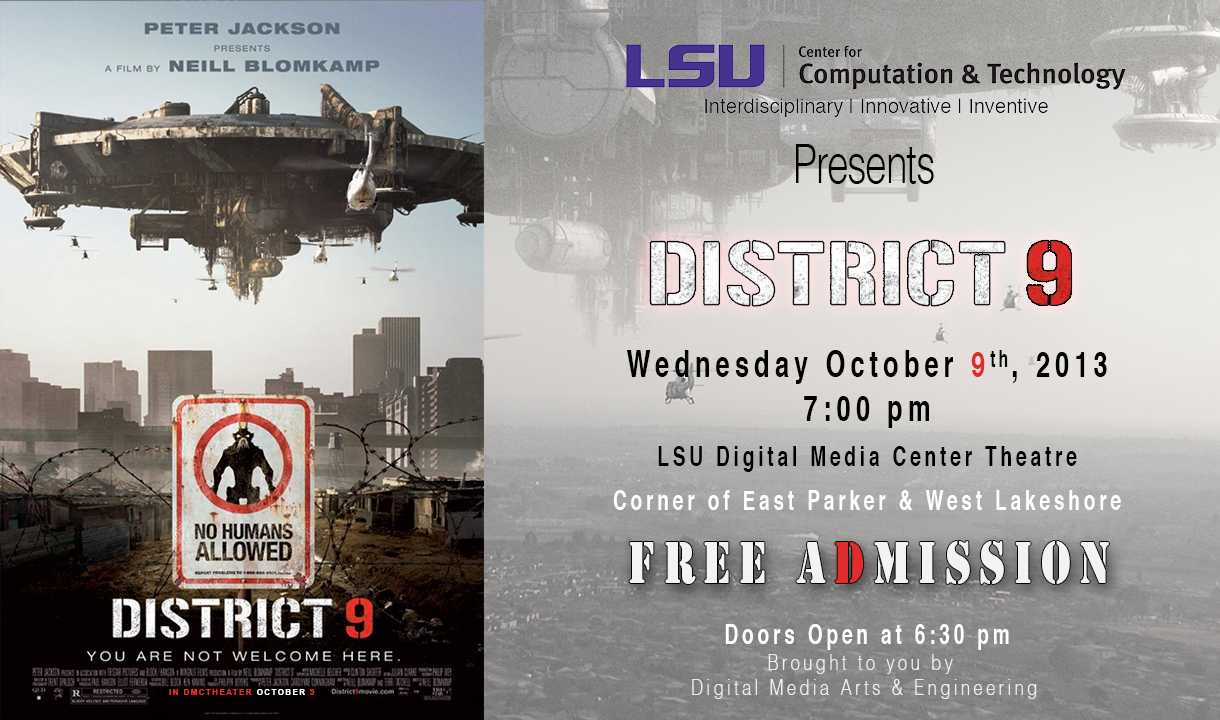 October 09, 2013 - Invalid date
District 9
DMAE Film Series
DMC Theater
LSU , Digital Media Center (DMC),

Baton Rouge
October 09, 2013 - 7:00 PM until:
Invalid date - Invalid date
Neill Blomkamp's District 9 admission-free screening on Oct.9 to start a monthly series in a brand-new LSU Digital Media Center Theatre
LSU's Digital Media Arts & Engineering Program and Cultural Computing Group at the LSU Center for Computation & Technology are happy to present District 9, a 2009 South African independent science fiction action/thriller film directed by Neill Blomkamp. The showing is free of charge, and will take place on Wednesday October 9th, 2013, at 7 p.m. at the brand-new LSU Digital Media Center Theatre, located at 340 East Parker Street on the corner of East Parker and West Lakeshore Drive.
Doors will open at 6:30 p.m., and seating is on a first come first serve basis, so come early to guarantee a good seat. Please remember that no drinks or food are allowed in the theatre.
"I remember walking into The Embassy, a VFX company in Vancouver, British Columbia, while working in pre-production on Marvel Nemesis for Electronic Arts, and we were introduced to Neill Blomkamp there," said Marc Aubanel, Director of the Digital Media Arts & Engineering (DMAE) program at LSU. "Neill straddled the world of technical proficiency with creative excellence in a way that was unique and identifiable. When I finally saw District 9 for the first time, I could immediately see the artistry, and it was a natural evolution from the work he had done previously." - Marc Aubanel
The Digital Media Arts & Engineering program at LSU is committed to producing tomorrow's leaders in the digital media arts field. The new series of monthly screenings will feature productions that have relevance to the history that led to digital cinema as we know if today, and significant interactive achievements.
Each screening will be preceded by a short lecture that will help elucidate the mysterious and hidden world about how these are created and the associated technical and creative challenges.
Plot Summary: Director Neill Blomkamp teams with producer Peter Jackson for this tale of extraterrestrial refugees stuck in contemporary South Africa. It's been 28 years since the aliens made first contact, but there was never any attack from the skies, nor any profound technological revelation capable of advancing our society. Instead, the aliens were treated as refugees. They were the last of their kind, and in order to accommodate them, the government of South Africa set up a makeshift home in District 9 as politicians and world leaders debated how to handle the situation.
About the Movie: District 9 won the 2010 Saturn Award for Best International Film presented by the Academy of Science Fiction, Fantasy & Horror Films, and was nominated for four Academy Awards in 2010: Best Picture, Best Adapted Screenplay, Best Visual Effects, and Best Editing. The movie was shot digitally on the RED camera.