News Articles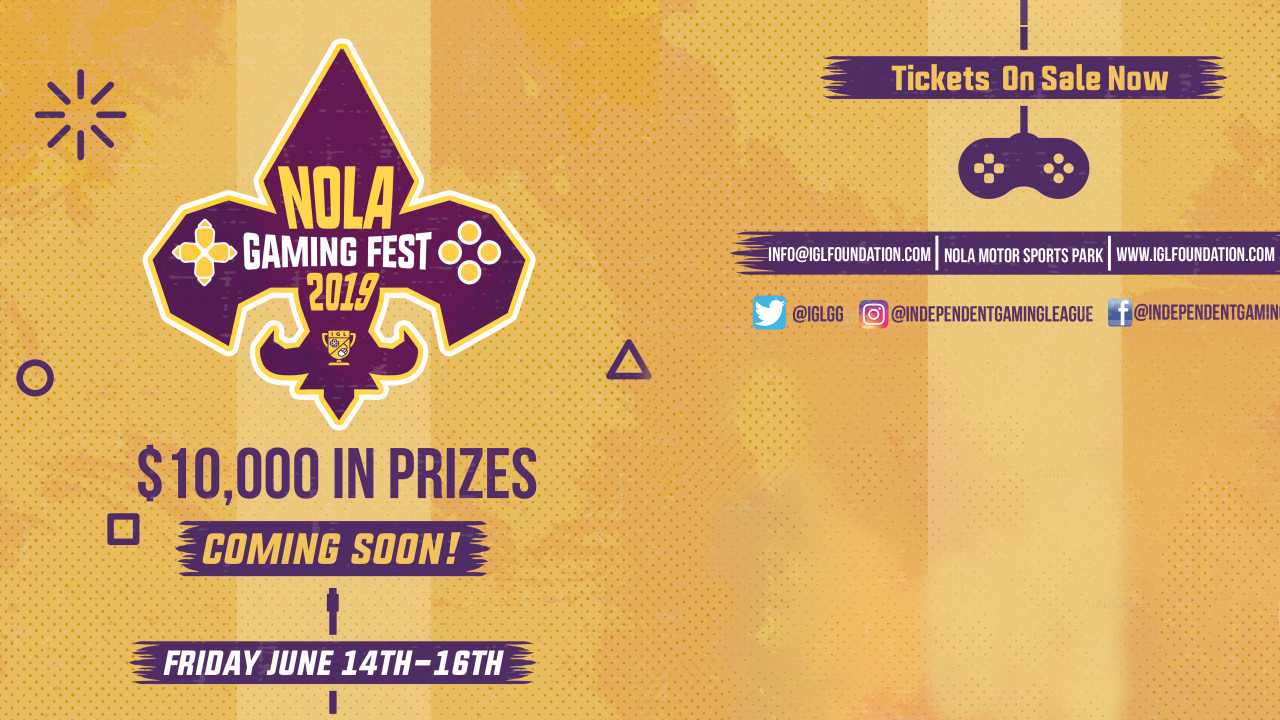 Marc Aubanel
maubanel@cct.lsu.edu
Director, LSU Digital Media Arts & Engineering
NOLA Gaming Fest 2019
March 08, 2019
Louisiana State University
---
NOLA Gaming Fest is coming June 14th - 16th. Pre-Registration will begin on April 1st.
The following list of main games will be featured this year for NOLA Gaming Fest tournament and/or casual play. Tournaments will be held by demand and cash prizes up to 10,000 will be announced!
Shooters
Apex Legends
Fortnite PC PS4
Call of Duty Black Ops 4
Overwatch 1v1
PUBG
Fighting
Dragon Ball FighterZ(PS4)
Tekken 7 (PS4)
Street Fighter V: Arcade Edition (PS4)
Mortal Kombat 11 (PS4)
SoulCalibur VI (PS4)
Super Smash Bros. Ultimate (Switch)
BlazBlue: Cross Tag Battle
Under Night In-Birth ExeLate[st] (PS4)
Injustice 2
Sports
League of Legends Locals Finals
*earthstone
Magic the Gathering
REGISTRATION
The following registration options are available for purchase at the IGL Foundation
Special Two Day Pass: $35.00 (limited time sale)
Two Day Pass: $45.00
3 Day pass: $60.00
Vendor 3 Day pass: $250.00
SCHEDULE:
A detailed Schedule will be released in April
Friday
ALL DAY CASUAL GAMING
Youth Field Day (Summer Camps KIDS WELCOME)
Saturday
All Day Tournaments
Amateur League
Youth League
Overnight gaming
All Weekend casual gaming
Attendees are welcome to bring there own setups. (Tables will be available)
Sunday
All Weekend Activities (All Day Saturday and Sunday)
Retro Gaming
VR Lounge
Artist/Vendor Booths
Free Play area
Karting
From March 16th through June 14th, we will run an event series for all of our competitors and enthusiasts to take part in, both online and offline! In addition to promoting NOLA Gaming Fest, these event series will be hosted throughout the State at High School gyms, Youth Recreational centers and other various locations.
The Independent Gaming League Foundation's Nola Gaming Festival schedule and main games hosted will be updated on the Facebook event page.