News Articles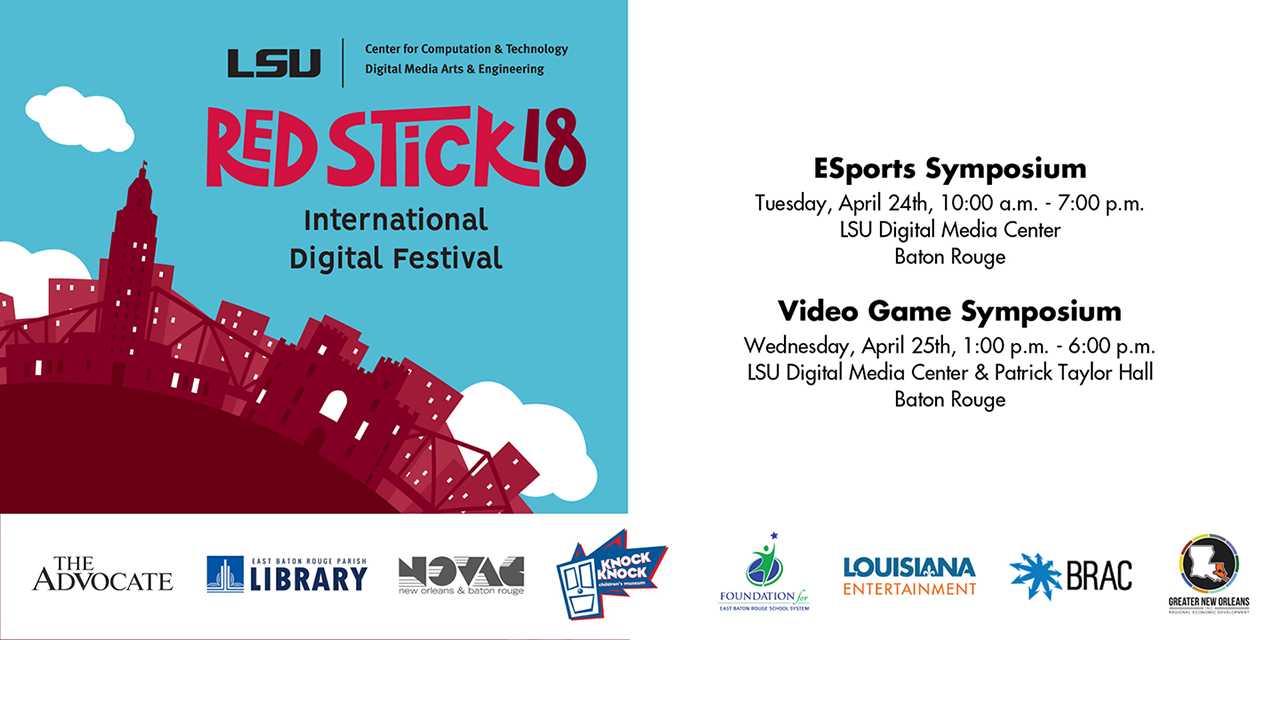 Marc Aubanel
maubanel@cct.lsu.edu
Director, LSU Digital Media Arts & Engineering
RedStick 2018 ESS & VGS
April 03, 2018
Louisiana State University
---
The RedStick 2018 Festival has two large video game components this year. We are holding LSU's first Esports Sypomsium. On April 24th Esports LSU (@EsportsLSU) will host an e-sports symposium:
LSU's esports club has over 300 members with competitive teams in Rocket League, Hearthstone, Overwatch, Heroes of the Storm, League of Legends and World of Warcraft. Come by and play with LSU's finest esports athletes and see the latest video games in the field. From Virtual Reality to Fortnite.
More people aged 18-25 watch esports than traditional sports. There are 1600 Collegiate Esports Club programs in 600 Universities with 78 Varsity teams. There are multiple leagues that students can compete in such as League of Legends College Championships, TESPA, AVGL, CSL and NACE. The day will include regular talks about esports and games to play! Come to LSU and find out that Esports is more than just playing games! Registration for this event is free and open to the public. Tuesday April 24th, 2018
Schedule of Events:
10:00 am : Jesse Wang (HTC) - Collegiate Esports: First Glance and Insider Perspective
11:00 am: Matthew Greene (Happy Mushroom) - Formerly worked on League of Legends
1:00 pm: Nathaniel Tsai (Dreamleague Gaming) KEYNOTE SPEAKER
2:00 pm: Jonathon Oudthone (President/Founder NGAGE Esports)
3:00 pm: Kyle Langley (Fortnite/Epic) - Going from an Indie to a AAA Designer.
4:00 pm: Mark Candella (Twitch)
5:00 pm: Trihex (Twitch Celebrity) - Super Mario Odyssey Speed Run
6:30 pm: Hardware Panel (CORSAIR/NVIDIA/HP)
Get Free Tickets here - https://bit.ly/2uFZn7y
On April 25th attend the Video Game Symposium at the Digital Media Center and Patrick Taylor:
Wednesday April 25th, 2018
LSU Digital Media Center
Story to Life: The Art and Science of Visual Effects in Film
RedStick 2018 is proud to welcome Chris White, Technical Director, currently working for Weta Digital. Chris' talk will be Bringing the Story to Life: The Art and Science of Visual Effects in Film. In this presentation, Chris will give a 'behind the scenes' look at how visual effects artists contribute to how stories are told in film. He will use his work on Maze Runner: The Death Cure, Valerian and the City of a Thousand Planets, and the Planet of the Apes trilogy to describe how research, creativity, and the work of many artists across disciplines aid in this process.
Chris White is a two time Academy Award Visual Effects artist for his work on Rise of Planet of the Apes and The Hobbit: Unexpected Journey. Chris has been responsible for the creation of CityBot, the procedural environment engine used to create 1930s New York City for Peter Jackson's King Kong. Chris started his career in 1996 where he worked at ILM with LSU's own Ken Wesley on classic films including Twister, Mars Attacks!, Spawn, The Perfect Storm and Men in Black II. His latest film is Maze Runner: The Death Cure.
Tech & Art: My Time in Film, Games and 3D Printing
Mike Ludlam is currently a Senior Technical Artist on the engineering team at Toys For Bob. TFB is a game studio located in Northern California and is the originator of the popular _Skylanders- franchise.
Mike began creating flying logos and 30 second all-CG commercials in the early 90s utilizing Silicon Graphics computers and Wavefront software. Later he joined Industrial Light & Magic as a technical director and created computer VFX for feature films. He then pursued other digital endeavours such as web startups and 3D printing. All together this totals over 25 years of experience with digital media.
Patrick Taylor Hall - Room TBD
3:00 - 6:00 pm - Luis Cataldi
Luis Cataldi is the Epic Director, Education & Learning Resources. Luis Cataldi has been working in the computer graphic industry for more than 20+ years in a variety of roles from character rigger to FX artist. His work has appeared in television , music videos, theme parks, feature animated movies and AAA video games. Luis will be giving a hands on 3 hour workshop on some of the latest features in Unreal Engine.
Get Free Tickets here - https://bit.ly/2GxBZuq