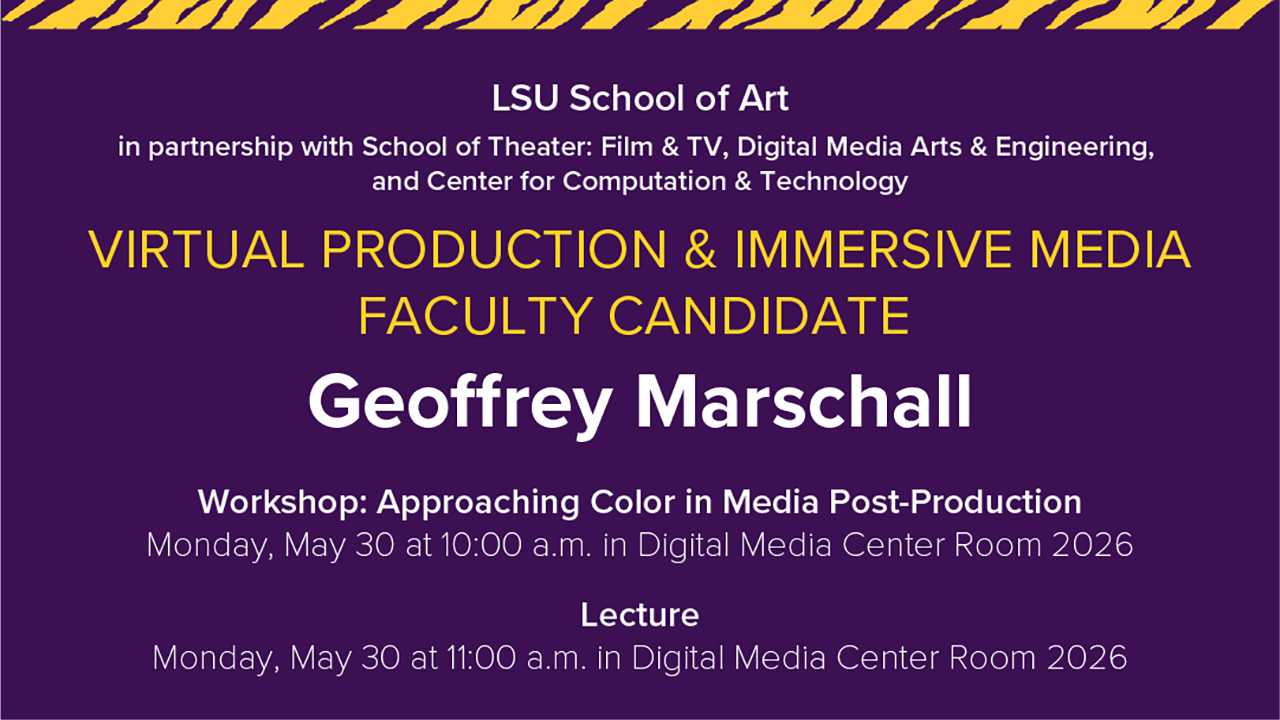 May 30, 2022
Geoffrey Marschall Workshop
Room 2026 - LSU Digital Media Center
304 East Parker Blvd,

Baton Rouge
May 30, 2022
10:00 AM - 11:00 AM
Please join the LSU School of Art in partnership with School of Theater: Film & TV, Digital Media Arts & Engineering, and Center for Computation & Technology for a workshop by Virtual Production & Immersive Media Faculty Candidate, Jason Jamerson. The event will be held in-person and on Zoom at this address: https://bit.ly/jamersonlsu.
For any questions or to share feedback after the lecture please feel free to email dostrenko@lsu.edu and/or fill out this faculty candidate evaluation form: https://forms.gle/9RCkhjCPXbd9cJZ28.
Workshop
Approaching Color in Media Post-Production
Bio
Asst. Prof. Geoffrey Marschall has worked in film and media for over fifteen years. He received his BA in Film from Vassar College where he was cinematographer on various shorts including a documentary on bike messengers unionizing in New York City. After graduating, he worked as an editor, videographer, and freelance cinematographer for three years in Japan before returning to pursue his MFA in Production at the University of Southern California School of Cinematic Arts. There he honed his skills and began working in color grading, green screen workflows, and visual effects. Shortly after receiving his MFA, Asst. Prof. Marschall moved to China to teach film production at BNU-HKBU United International College. While there, he recorded foley for documentaries and shot feature-length documentaries in Taiwan. Asst. Prof. Marschall returned to the United States in 2017 and is currently teaching post-production at the University of Louisiana at Lafayette. He has worked on feature-length films, documentaries, shorts, music videos, and advertisements. His most recent film on which he worked as cinematographer and colorist is titled Trip and is currently streaming online. He loves film and media that can show the audience a new perspective on the world and inspire change whether personal or socially. As a practitioner, He explores the potential of color, lens choice, and lighting to convey and inspire the emotions in media.