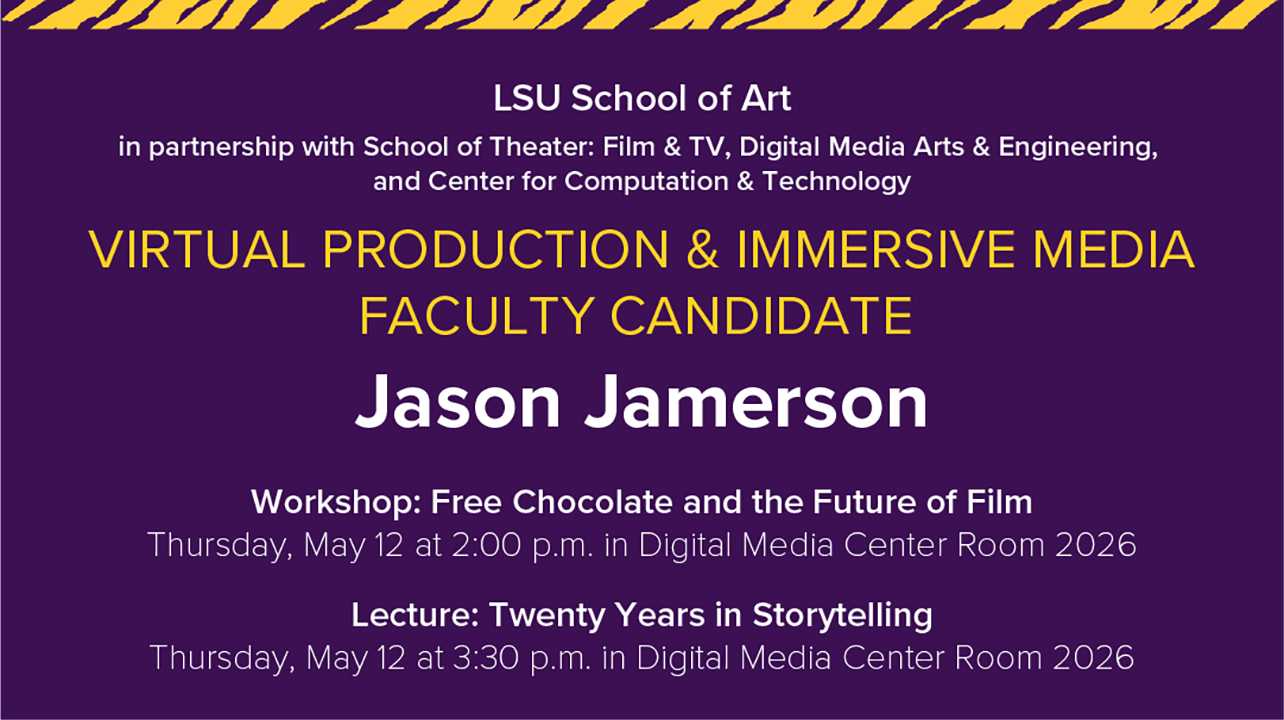 May 12, 2022
Jason Jamerson Workshop
Room 2026 - LSU Digital Media Center
304 East Parker Blvd,

Baton Rouge
May 12, 2022
2:00 PM - 3:00 PM
Please join the LSU School of Art in partnership with School of Theater: Film & TV, Digital Media Arts & Engineering, and Center for Computation & Technology for a workshop by Virtual Production & Immersive Media Faculty Candidate, Jason Jamerson. The event will be held in-person and on Zoom at this address: https://bit.ly/jamersonlsu.
For any questions or to share feedback after the lecture please feel free to email dostrenko@lsu.edu and/or fill out this faculty candidate evaluation form: https://forms.gle/9RCkhjCPXbd9cJZ28.
Workshop
Free Chocolate and the Future of Film
Bio
Jason Jamerson is an innovative multidisciplinary artist working in virtual production and environment design. For two decades his work has appeared on stage and screens in television, on Broadway and for Hollywood where he has served as a Production Designer and VFX Artist. In addition to his industry work, he has taught at the University level for three years in Nebraska where he leads the New Media Program in Virtual and VR Production at UNO. His research focus is the intersection of authentic, driven storytelling and the rapidly changing toolset we use to create it.