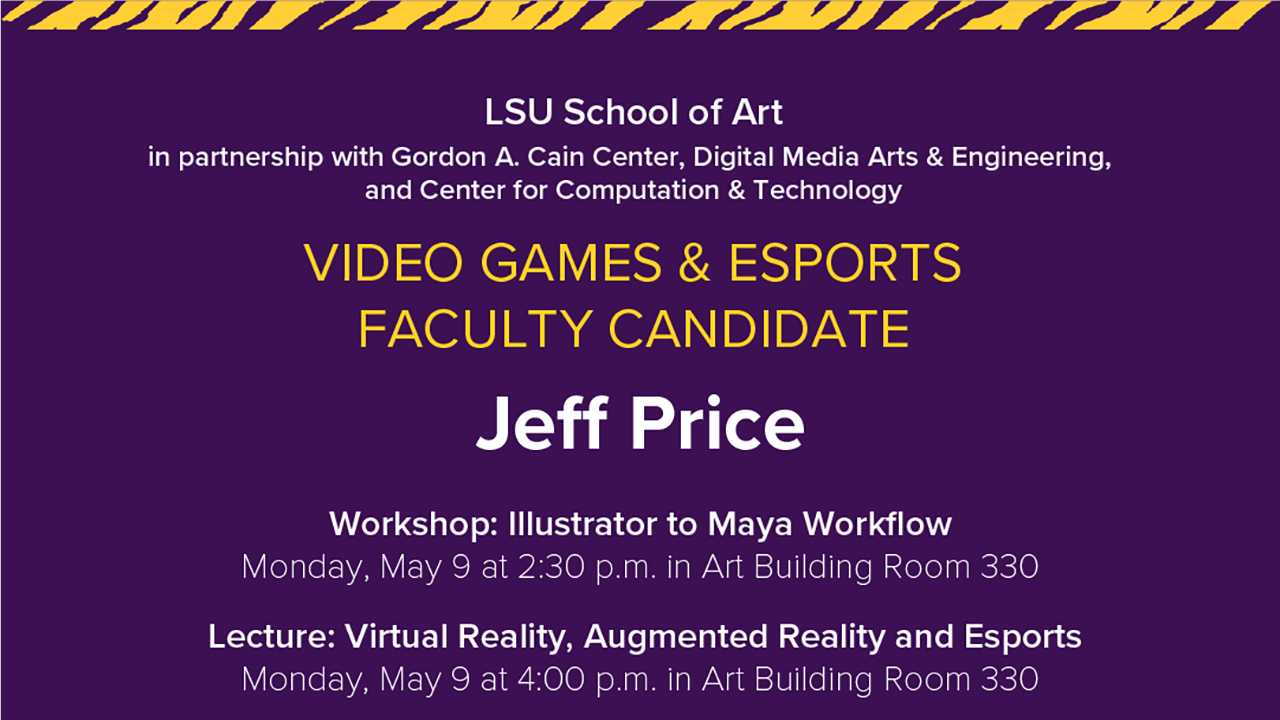 May 09, 2022
Jeff Price Lecture
ART 330 LSU
3rd Floor Art Building,

Baton Rouge
May 09, 2022
4:00 PM - 5:00 PM
Please join the LSU School of Art in partnership with the Gordon A. Cain Center, Digital Media Arts & Engineering, and Center for Computation & Technology for a workshop and lecture by Video Games and Esports Faculty Candidate, Jeff Price. Both events will be held in-person and on Zoom at this address: https://bit.ly/jpricelsu.
For any questions or to share feedback after the lecture please feel free to email dostrenko@lsu.edu and/or fill out this faculty candidate evaluation form: https://forms.gle/9RCkhjCPXbd9cJZ28.
Lecture
Virtual Reality, Augmented Reality and Esports - 4pm
Bio
Jeff Price received his B.F.A. in Visual Communications from the University of Oklahoma and an M.F.A. from Virginia Commonwealth University. Jeff has an extensive background in game design, electronic media, interactive communications, and graphic design. Now teaching at Oklahoma City University, Jeff draws from 20+ years of experience as an Associate Professor of Gaming and Animation at Sam Houston State University and Oklahoma State University, Assistant Professor of Interactive Design at Virginia Commonwealth University, and his experience as the owner of Price Media Group. Jeff 's experience in the design and development of VR applications, interactive games, graphic design, animation, websites and web-based communications. As principal of Price Creative Group, Price has won several industry awards in video, animation, interactive, and print design. Jeff's students have gone on to work at industry giants such as Dreamworks, Sony Imageworks, Digital Domain, EA/Respawn, ID Software, Imaginary Forces, Magnet Interactive, Organic, Blur, Midway Games, and Big Idea.