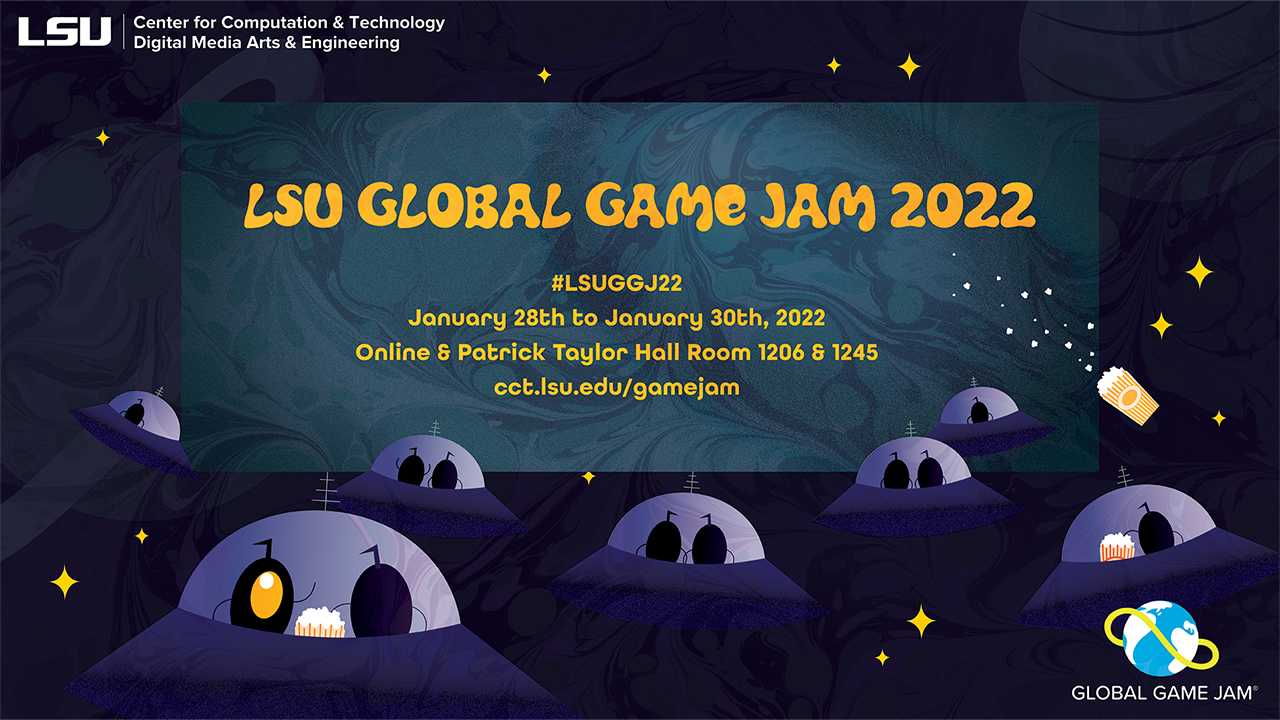 January 28, 2022 - January 30, 2022
LSU Global Game Jam '22
Online
Zoom,
January 28, 2022 - 4:00 PM until:
January 30, 2022 - 5:00 PM
Join us for LSU's 8th Global Game Jam on January 28th, 2022. This year's jam will happen both online and in person if all goes as planned. The LSU GGJ is open to all adults of varying skill levels willing to participate. Take part in the ultimate game jam with over 30,000 participants in over 100 countries. We welcome first time jammers, especially freshmen. NO PRIOR EXPERIENCE necessary. This event is open to the public, you don't need to be an LSU student.
Please register as soon as possible to reserve a spot at the Global Game Jam website. If you are attending onsite, you should bring your own equipment, laptop, and have necessary software loaded.
For those attending on site at LSU, it will take place at Patrick Taylor Hall in room 1206 & 1245. Online and onsite participants are encouraged to engage and work together as more and more professional teams are working in a distributed manner.
For those attending online please join us on zoom
About the Global Game Jam
Innovation - Experimentation - Collaboration: The Global Game Jam (GGJ) is the world's largest game jam event (game creation). Think of it as a hackathon focused on game development. It is the growth of an idea that in today's heavily connected world, we can come together, be creative, share experiences and express ourselves in a multitude of ways using video games – it is very universal. The weekend stirs a global creative buzz in games, while at the same time exploring the process of development, be it programming, iterative design, narrative exploration or artistic expression. It is all condensed into a 48 hour development cycle. The GGJ encourages people with all kinds of backgrounds to participate and contribute to this global spread of game development and creativity.
The game jam starts on Friday afternoon (~4:00PM) for the video keynote, advice from leading game developers, and then a secret theme is announced. All sites worldwide are then challenged to make games based on that same theme, with games to be completed by Sunday afternoon. The jam is known for helping foster new friendships, increase confidence and create opportunities within the community. The jam is always an intellectual challenge. People are invited to explore new technology tools, try on new roles in development and test their skills to do something that requires them to design, develop, create, test and make a new game in the time span of 48 hours.
The GGJ is open source, hardware & software agnostic and all projects are protected under a Creative Commons license. We encourage people to try out new ideas and push themselves creatively. Many games developed in previous Game Jams have become fully realized games. We also strongly encourage participants to remember to eat and sleep, to stay at their best!
Who: Age 18+, amateurs through professionals (minors allowed if accompanied by their legal guardian/or school counselor/chaperone). Teams will be selected onsite! Collaborate with new friends or peers you admire. Although having computer skills is helpful, code experience is not necessary. Designers, developers, artists and anyone is welcome to try their hand at making a game during the GGJ.
If you have questions, contact Marc Aubanel.