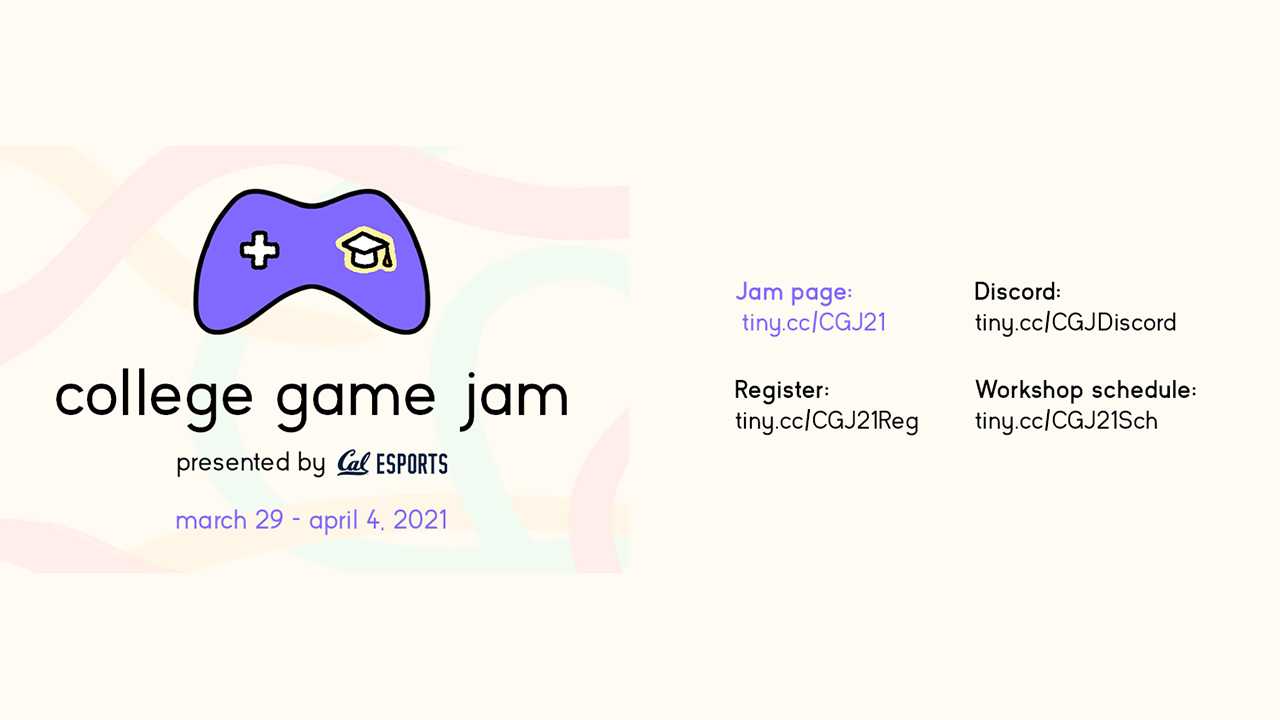 March 29, 2021 - April 04, 2021
College Game Jam
Presented by Cal Esports
Online
YouTube,
March 29, 2021 - 3:00 PM until:
April 04, 2021 - 2:00 PM
Cal Esports presents the College Game Jam on March 29th to April 4th. This is a 100% virtual event open to any student full or part-time. Register Now to join students from around the world as well as educational workshops with industry professionals.
Who can participate? Anyone currently enrolled in a degree program as either a full-time or part-time student. When you fill out the CGJ registration form, you will be asked to provide an .edu email address for all members of your team. 1 to 5 people per team! Team members do not have to be from the same school/program. If you're looking for teammates, visit our looking-for-team thread or the #looking-for-team channel in our Discord.
Are there prizes? Yep! The top three winning teams will get detailed, written feedback on their game from game dev professionals, plus some other cool stuff. Scroll down for info on who our guest judges are + full prizing details!
Who are the guest judges/workshop teachers/office hour hosts? Our special guests are all professionals at game development companies who have generously volunteered their time for the jam! They are listed below.
Alfredo Barraza, Riot Games
Audrey Cheng, Blizzard Entertainment
Jeremy Ernst, Riot Games
Megan Zhu, Riot Games
Stone Librande, Riot Games
What is the optional theme? The optional theme will be announced at our Kickoff on Monday, March 29th at 1 PM PT, live on Twitch. This page will be edited after Kickoff ends.
Anything you make during the College Game Jam is your property. CGJ claims no rights or ownership of your game.
The College Game Jam is hosted by Julia Shen and Patrick Visan, two seniors at UC Berkeley. Thanks for reading this far, we're excited to see what you create!