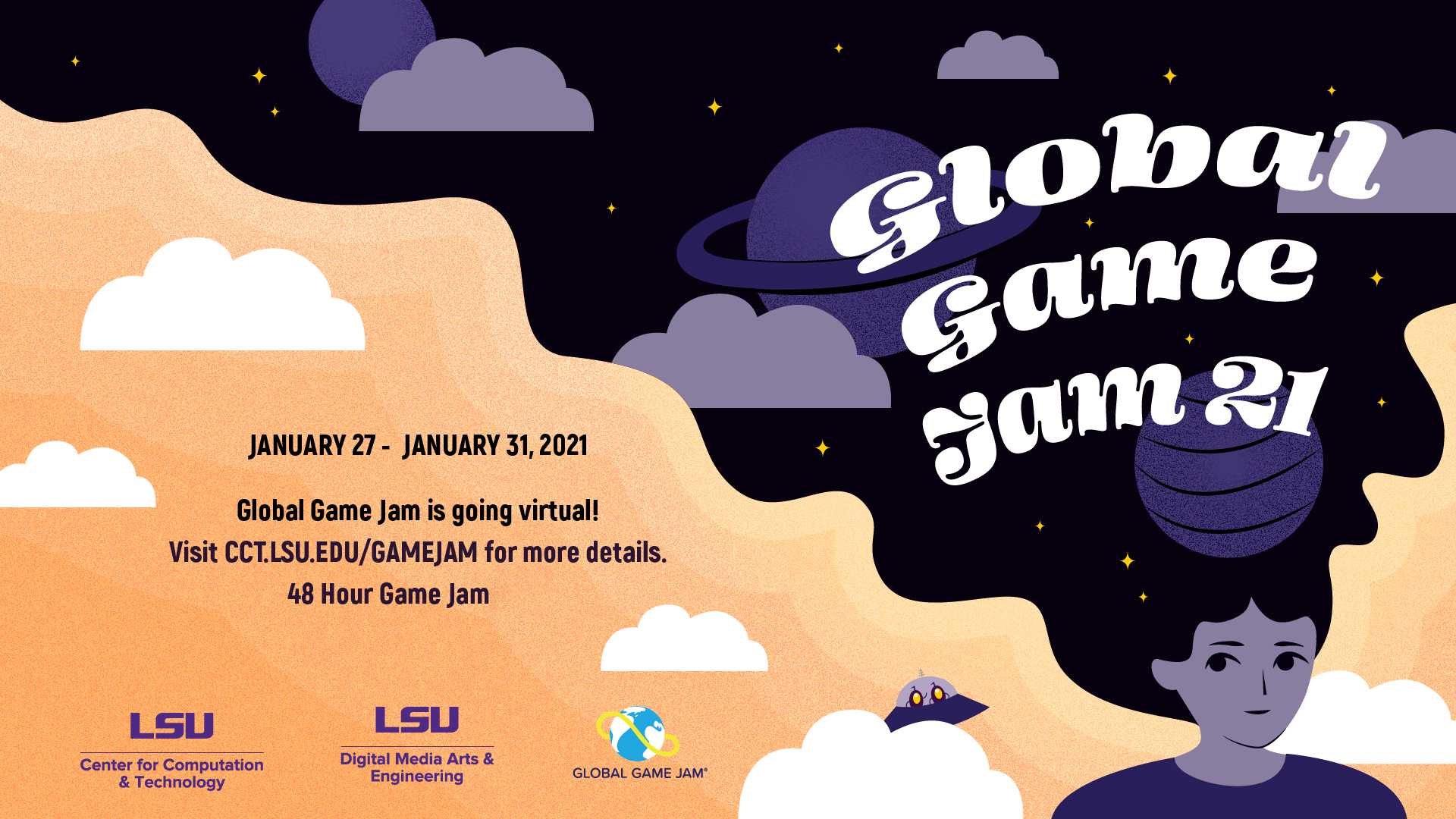 January 27, 2021 - January 31, 2021
Virtual LSU Global Game Jam '21
Zoom & Slack
Online,

Baton Rouge
January 27, 2021 - 5:00 PM until:
January 31, 2021 - 5:00 PM
Due to the Covid 19 virus this year's Global Game Jam will be taking place all online. Please join us on Wednesday, January 27th until January 31st for the Virtual LSU GGJ `21!
FEE: Free of charge
This is LSU's 7th Global Game Jam this January. The LSU GGJ is open to everyone of all skill levels willing to participate. Take part in the ultimate game jam with over 30,000 participants in over 100 countries. We welcome first time jammers, especially freshmen. NO PRIOR EXPERIENCE necessary. This event is open to the public, you don't need to be an LSU student.
This year it is extended and you can participate over 5 full days if you like. We will be working in teams on Slack and on Zoom. Join us for the Keynote on Wednesday, 27th at 5:00 pm for the keynote on zoom at 5:00pm. The theme will be released on Tuesday, January 26th at 10:00 pm Baton Rouge time on Twitch.
HOW TO REGISTER: Just head over to globalgamejam.org and sign up!
Innovation - Experimentation - Collaboration: The Global Game Jam (GGJ) is the world's largest game jam event (game creation). Think of it as a hackathon focused on game development. It is the growth of an idea that in today's heavily connected world, we can come together, be creative, share experiences and express ourselves in a multitude of ways using video games – it is very universal. The weekend stirs a global creative buzz in games, while at the same time exploring the process of development, be it programming, iterative design, narrative exploration or artistic expression. It is all condensed into a 48 hour development cycle. The GGJ encourages people with all kinds of backgrounds to participate and contribute to this global spread of game development and creativity.
The GGJ is open source, hardware & software agnostic and all projects are protected under a Creative Commons license. We encourage people to try out new ideas and push themselves, within reason. Many games developed in previous Game Jams have become fully realized games. We also strongly encourage participants to remember to eat and sleep, to stay at their best!
Who: Age 18+, amateurs through professionals (minors allowed if accompanied by their legal guardian/or school counselor/chaperone). Do not come to the Jam with a team. Everyone will have some time to think and pitch an idea. Teams will be selected onsite! Collaborate with new friends or peers you admire. Although having computer skills is helpful, code experience is not necessary. Designers, developers, artists and anyone is welcome to try their hand at making a game during the GGJ. View FAQ's for more information.
If you have questions, contact maubanel@.lsu.edu.