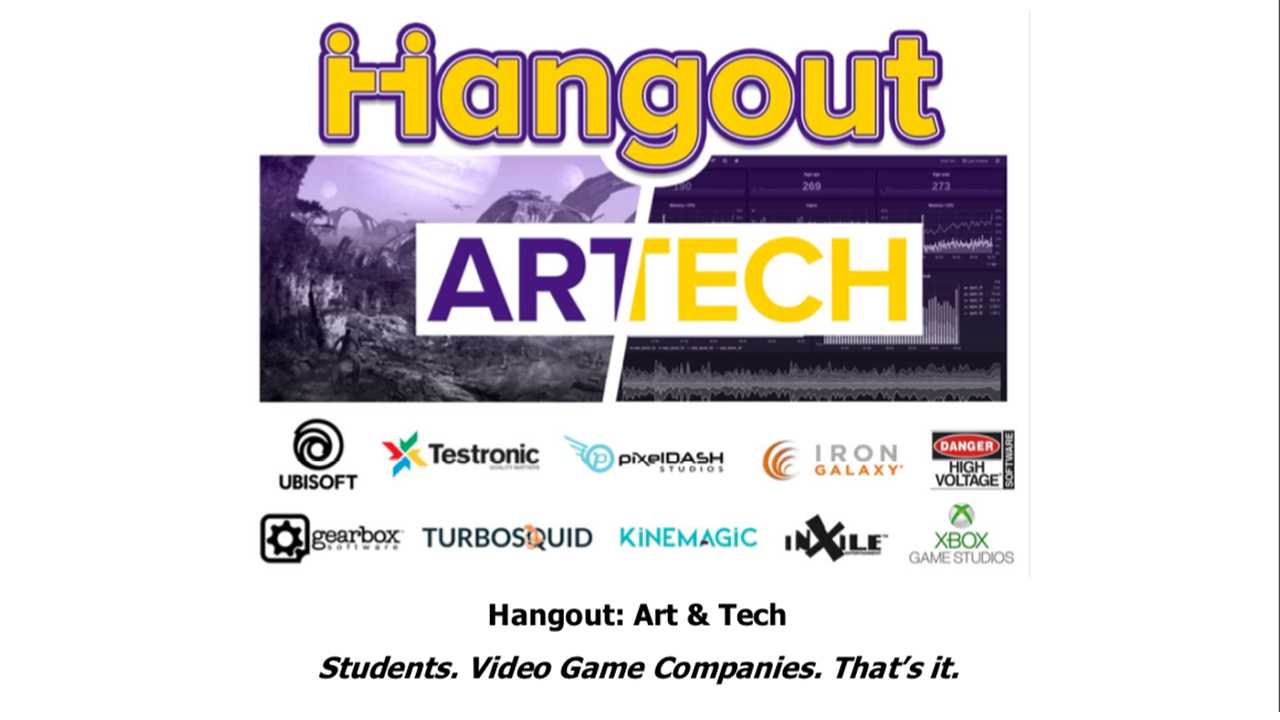 November 12, 2019 - Invalid date
Hangout Art/Tech '19
Royal Cotillion Ballroom
LSU Student Union,

Baton Rouge
November 12, 2019 - 5:00 PM until:
Invalid date - Invalid date
Gaming is a $40 billion industry and its influence can be felt in every other industry sector. The Hangout connects you directly to executives from video game companies who are blending art and technology to create incredible experiences (and best-selling games).
Gaming needs musicians, artists, technologists, developers, engineers, data specialists, and storytellers – this is your opportunity to hear about the industry and learn about the skills needed and jobs available.
The Hangout format is simple: no resume, no suit, just your passion for technology and problem- solving, and an opportunity to meet and learn from folks in the video game industry. We'll have food and drink, and you'll have plenty of time to connect with companies including Turbosquid, Testronic, PixelDash Studios, Iron Galaxy, Kinemagic, Gearbox Software, High Voltage Software, INXILE, XBOX Game Studios, and Ubisoft.
What kinds of companies will be there?
We will have around ten companies representing major gaming studios across platforms. All sizes will be represented, and several have or are exploring footprints in Louisiana (as well as global offices), and they're actively hiring folks with your skill sets, creativity, and enthusiasm. They're excited about this format and meeting students like you.
What can I expect?
Real conversations with real company leaders. We'll have two fun Q&A panels – one on art, and the other in technology – and then we give companies and students a chance to just hang out. You can ask studio execs about their company culture, mission, areas of interest, and skills they think they'll need to compete and solve challenges. You can expect to get direct answers from the folks who are setting strategic priorities and making hiring decisions.
Who is invited?
We're extending invites to students in several colleges, including Engineering, Business, Art & Design, and Music. Want to bring a friend that's not in these programs but interested in a career in technology? Go ahead. All students are welcome, regardless of major, class year, or career goals.
What do I have to do to attend?
Register through Handshake.
Will there be food?
Yep. Pizza.
What should I wear?
This isn't a career fair. It's an opportunity to meet, so dress like a technology professional: jeans, hoodies, and t-shirts. We're asking the company execs to do the same.
What should I bring?
Just you.
A resume?
No, you can upload your resume to Handshake under the Documents tab. That's the only way they'll get it, so the ball is in your court. Need help getting started? Check out tips on building a resume from the LSU Olinde Career Center. Make sure to make it public on Handshake so all the companies participating can access it.
Who is hosting this event?
Louisiana Economic Development is supporting the event in concert with the LSU Olinde Career Center, Office of Industry Engagement, and Office of Research & Economic Development to connect students and companies in new and interesting ways.