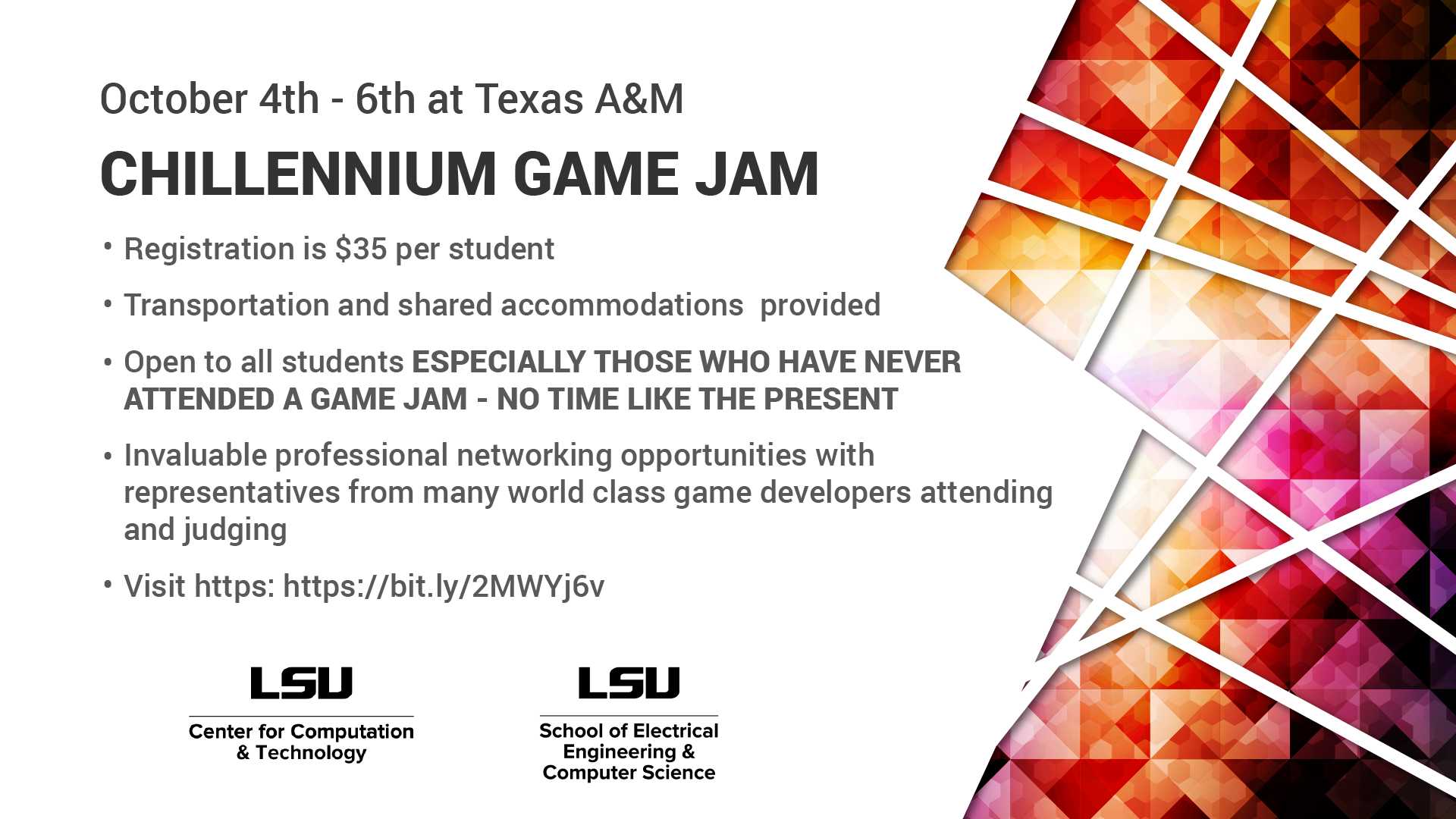 October 04, 2019 - Invalid date
Chillenium 2019
Texas A & M
Memorial Student Center 275 Joe Routt Blvd Room 2240,

Baton Rouge
October 04, 2019 - 7:00 PM until:
Invalid date - Invalid date
Description
LSU DMAE (Digital Media Arts & Engineering program) and Computer Science invites LSU students interested in creating games to the LSU Fieldtrip to Chillennium. LSU will provide lodging and transportation. Participants must register for the event as soon as possible (see registration information below). The first 20 students registered will earn a spot on the trip and will have the honor of representing a LSU DMAE team during the jam. Chillennium game jam provides breakfast, lunch and dinner during the jam. TRIP Dates: Transportation will leave LSU Digital Media Center approx. 8:30AM on Friday, Oct. 4th and return Monday, Oct. 7 by approx. 5:00 PM.
WHAT IS CHILLENNIUM?
Chillennium is the largest student-run game jam in the world, organized by students, for students. Hosted annually by the Department of Visualization, Chillennium is founded, staffed, and organized by students of Texas A&M University. This unique event brings participants from around the globe to meet fellow game enthusiasts, develop their skills, and compete for prizes. Those who participate can compete alone or as a team of up to 4 and will have 48 hours to plan, design, and develop a video game from scratch based on a theme! During the jam, mentors from the game industry will be walking the floors helping participants develop their ideas into amazing games. At the end of the 48 hours, the games will be played and judged by a panel of experts from the game industry and winners will be awarded prizes! No previous knowledge about games is needed, just a passion for creation!
WHEN & WHERE:
Chillennium 2019 will take place at the Texas A&M Memorial Student Center. It will start on the afternoon of Friday, October 4th and end 48 hours later on Sunday, October 7th. The exact times are not yet determined, so be sure to follow us on social media and check back here for when that information is announced.
HOW TO REGISTER
You need to reserve a spot on Eventbrite. It is first come first serve, the first 20 to sign up will get priority. You also need to register and pay for Chillennium 2019 here! Registration ($35) ends August 27. Register fast as they are capping participation at 500 students and they are almost full.
FOR MORE INFORMATION
---on the Chillennium Game Jam, visit CHILLENNIUM ---on the LSU Fieldtrip, contact Marc Aubanel at Marc Aubanel or call and text at 225-578-8907