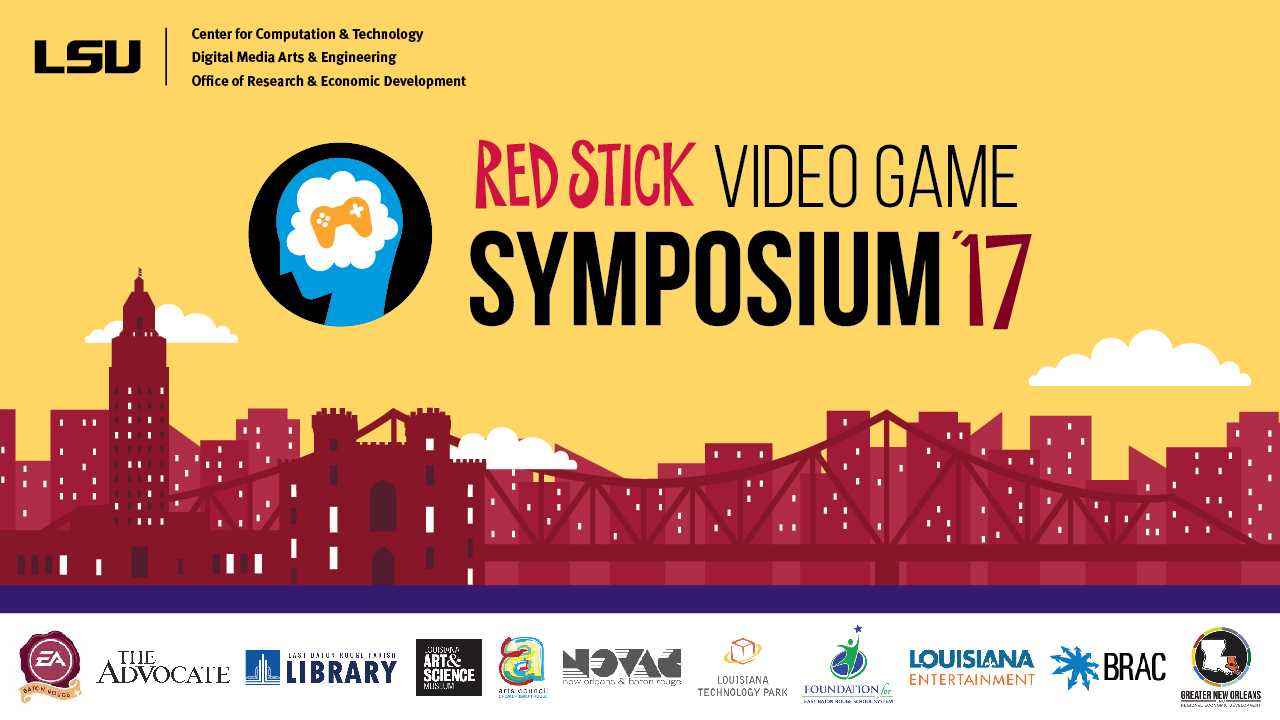 April 28, 2017 - Invalid date
LSU Video Game Symposium
DMC First Floor
LSU , Digital Media Center (DMC),

Baton Rouge
April 28, 2017 - 10:00 AM until:
Invalid date - Invalid date
LSU's Center for Computation & Technology (CCT) and Digital Media Arts & Engineering (DMAE) are proud to announce the second Video Game Symposium. Join experts from around the country and see what is happening in this emerging field. Sign up now for free tickets and reserve your spot for this unique event.
The 2017 LSU Video Game Symposium is a series of panels, group discussions and presentations with media leaders considering the future skill requirements that will be needed in the game industry. Speakers from around the country will be joining us . We will be hosting a showcase of local productions from around the state demonstrating a vibrant development culture that is starting to take hold. If you're interested at all in the Gaming Industry, you should not miss this event. Bring your questions–Free to attend!
Thursday April 27th, 2017
10:00 - 11:30 am - Art Building 330
Finding Your Place in Digital Production: Games, Animation, VFX - Tad Leckman
12:30 - 1:30 pm - Art Building 330
Learning to See - Henry LaBounta
1:45 - 3:00 pm - Art Building 330
The Next 10 - Mike Swanson
3:15 - 4:45 pm - PFT 1124 A**
Game Development for Large Teams - Jeff Skelton
4:30 - 5:30 pm - DMC Theatre**
Sessionwire Demonstration - Robin Leboe & Rick Beaton
5:00 - 6:00 pm - PFT 1124 A
Career Musings - Chris Taylor
Friday April 28th, 2017
1:05 - 1:35 pm, LSU Digital Media Center, Theater
Long Time Listener, First Time Caller - Future of Music with sessionwire and LSU faculty
1:35 - 2:00 pm, LSU Digital Media Center, Theater
Musings about the Games Industry - Chris Taylor
2:00 - 2:30 pm, LSU Digital Media Center, Theater
Tools of the Trade with Tad Leckman and Mike Swanson
2:30 - 3:15 pm, LSU Digital Media Center, Theater
The Rogue Initiative VR Demonstration
3:30 - 4:15 pm, LSU Digital Media Center, Theater
VR Panel - Blurring Reality with Scott McPherson, Henry LaBounta, Cathy Twigg, Pete Blumel, and Jeff Skelton
4:15 - 5:00 pm, LSU Digital Media Center, Theater
Gaming & Gumbo - What is happening in VR in the State of Louisiana
5:00 - 6:00 pm, LSU Digital Media Center, Theater
Inside the Amoeba - Scoot McPherson AR,VR,TV extravaganza
Featuring
Jeff Skelton, EA
Previously served as technical director on the Frostbite team, EA's world wide internal game engine. Now serves as the primary external contact for technology relations. Over the past 21 years as a software engineer Jeff has shipped numerous games, both with EA and before, on platforms ranging from the Sega Saturn all the way to the PS4 and Xbox One. Jeff has contributed as an engineer on SSX, NBA Live and NHL to name a few. Jeff has also been heavily involved in new console hardware transition planning and execution all the way back to PSX days.
Scott Mcpherson, amoeba
Specializing in non-traditional utilisation of games-engine-based VR, Scott will include examples and stories of recent VR installations in art galleries, VR theater tours, and the new mixed media project from the amoeba studio: a VR/TV/AR crossover project [ The Illuminatus! Trilogy ], based on the novels by Robert Anton Wilson and Robert Shea. Full details of the project with video walkthroughs can be found on his website.
Chris Taylor (Independant)
Chris Taylor is a driving force in the industry and has a strong point of view on the direction it is moving in. Chris is a video game designer and entrepreneur most famous for developing Total Annihilation and the Dungeon Siege series and for founding Gas Powered Games. Chris started in the video game industry in the late 1980s at Distinctive Software in Burnaby. His first game was Hardball II released in 1989.
Taylor moved to Seattle, Washington in January 1996 when he joined Cavedog Entertainment as the designer and project leader for the real-time strategy computer game Total Annihilation and its first expansion, Total Annihilation: The Core Contingency. He founded Gas Powered Games in May 1998 and designed the action-role-playing video game Dungeon Siege. Its sequel, Dungeon Siege II, was released in 2005." - wikipedia Chris went on to develop Supreme Commander and Supreme Commander: Forged Forged Alliance. Chris moved to Wargaming.net in 2013. He has recently left the company and is now a self declared indie developer. We look forward to what Chris will be doing next and hope to hear more during Redstick.
Mike Swanson nVidia
Mike Swanson has over 25 years' experience in developing games, from touch-screen laserdisc golf in the late 80's to the latest VR content and everything in-between. Mike has had a hand in almost every game genre, game system and has held multiple roles at various publishers, independent developers and startups.
Mike currently works at Nvidia as a Sr. Producer on top tier game titles, helping high profile developers make their games the highest of quality. Mike has also worked at Electronic Arts Canada, Lucasarts Entertainment, Take 2, Gas Powered Games, Relic Entertainment and Bigpoint. Mike has held roles as an artist, art lead, technical art department manager, studio art manager, senior producer and executive producer.
Tad Leckman
Now based in Southern California, Tad has been responsible for story development and art education at Blizzard Entertainment and Riot Games. Tad is currently a Research Fellow for the UC Santa Cruz Division of Arts.
Tad Leckman's first job in the entertainment industry was working as an apprentice model maker, working for Emmy Award winner Jim Dow in 1987. After building miniatures and painting sets for a number of commercials, Tad attended UC Santa Cruz, where he studied English Literature with an emphasis on cinema studies. After graduation, Tad's diverse career has included time spent in both production and education. As a digital artist at Lucasfilm's Industrial Light & Magic, Tad served as Production Manager and Pipeline Architect for the studio's "Rebel Mac Unit" as well as supervising the creation and operation of ILM's previsualization team for both visual effects and feature animation.
Tad has taught at Academy of Art University, NYU's Center for Advanced Digital Applications, and Savannah College of Art and Design where he also served as Chair of the Visual Effects BFA and MFA programs.
Tad returned to Lucasfilm as Director of Training at Lucasfilm Singapore, where he oversaw the creation of the Jedi Masters Program, which enabled the rapid expansion of the Clone Wars, ILM and LucasArts teams.
Tad's credits include: Star Trek First Contact, Men in Black, Frankenstein (Unproduced Universal Digital Feature), Space Cowboys, Galaxy Quest, Tim Burton's Planet of the Apes, Terminator 3, Clone Wars, Rango, and cinematics for Diablo III, World of Warcraft, StarCraft II, Hearthstone and Overwatch.
Henry LaBounta
Academy Award nominee Henry LaBounta has over 25 years of entertainment experience in games, film visual effects, feature animation and television. Most recently at Zynga he held the position of Chief Visual Officer.
Prior to Zynga Henry was a Partner/Senior Art Director at Microsoft Studios working with the Xbox One launch team and multiple internal game teams. Henry started in games as a Senior Art Director at Electronic Arts on "SSX3″ and wrapped up his work there art directing "Need for Speed Hot Pursuit" at Criterion Games. Henry's game contribution credits include "Skate", "Skate 2″, "NBA Street", "Need for Speed Hot Pursuit 2″, "Need for Speed Most Wanted", "Burnout Paradise" and many EA Sports games. Henry is also the Chairman of the board of the San Francisco ACM SIGGRAPH chapter. Henry began his career in New York doing animation work for commercials and network television before moving to film visual effects and feature animation. At PDI/DreamWorks Henry was Visual Effects Supervisor for the Steven Spielberg films "Minority Report" and "A.I." as well as "Mission Impossible 2″ and "The Prince of Egypt". At Industrial Light & Magic his film work included "Star Trek VII Generations", "Casper" and "Twister" for which he won a BAFTA award and was nominated for an Academy Award for Best Visual Effects.
Cathy Twigg & Pete Blumel - The Rogue Initiative Using her well-rounded film, animation, television and worldwide product distribution experience, she has produced, directed and written several short films and web series and is currently developing the The Rogue Initiative's IP for VR, interactive, feature and television projects.
Cathy Twigg began her career at MTV Films where she was responsible for discovering new talent and adding projects to the development slate. Over her industry tenure, Twigg has served at Dreamworks Television Animation, Sony Pictures Television, Bandeira Entertainment and Dreamworks Animation working on several live-action television series and notable projects including Toonsylvania, Invasion America, KUNG FU PANDA, MONSTERS VS ALIENS, HOW TO TRAIN YOUR DRAGON, SHREK THE HALLS, MADAGASCAR, MADAGASCAR 2, PENGUINS OF MADAGASCAR, TIGERLAND, SLAP HER, SHE'S FRENCH and THE LOVE LETTER.
Peter Blumel is an established first-mover in VR, Blumel is an award-winning veteran producer of real-time, story-driven immersive entertainment with over 22 years of experience in feature film, animation and AAA interactive production.
He served in a key producer role at Activision's Infinity Ward game development studio where he became intimately involved in the creation and production of the CALL OF DUTY: MODERN WARFARE series and GHOSTS video games for over 8 years. Prior, Blumel spent over 10 years at DREAMWORKS SKG where he held roles of increasing responsibility, first at Dreamworks Feature Animation and later at Amblin Entertainment.
Robin Leboe & Rick Beaton | Sessionwire
Robin has over 35 years experience as a musician, composer, producer, programmer, product developer and entrepreneur, Sessionwire Communications, Inc. President and CEO Robin Leboe has deep ties with the music and recording industry.
The company's ground-breaking platform Sessionwire Studio is the realization of a long held dream to connect musicians together in a live network using the Internet.
Rick is a seasoned technology executive, with an impressive record of leadership as an early contributor to MPEG and ITU Broadcast standards, founding successful startups and leading the technology organizations of both private and public companies. For more than three decades Rick been fortunate to play a role in the development of new media, broadcast, and consumer electronics technologies that have been experienced by billions of people around the world.
Sid Brown | inXile
Sid Brown is currently the Lead Engineer at inXile Entertainment. He has been working in the video game industry for over 12 years.
He start his career in 2004 at inXile where he worked on several AAA titles including The Bard's Tale, Hunted: The Demon's Forge, and. Choplifter HD. Sid left the company in 2012 to work for Virtual Heroes in Raleigh, NC to work in the serious games where he was made Lead Engineer for the team. At Virtual Heroes Sid hired engineers for training programs and simulation software for medical, military, and other private applications.
In 2015 Sid came back to inXile Entertainment to be the Lead Engineer for their newly opened New Orleans office to hire the new team that is developing their latest Kickstarter project, Bard's Tale IV.
Matt Hales
Matthew Hales is VP of Immersive Technology and a founding member of TurboSquid, the world's largest provider of 3D content. Drawing on over two decades of experience in stereoscopic 3D, Matthew now heads up TurboSquid's Virtual Reality Lab, focused on VR, AR, photogrammetry and other immersive technologies.
With a catalog of over 650,000 unique 3D products, TurboSquid is the world's largest source for quality stock 3D content. TurboSquid's community of over 2.5 million artists and customers come from every line of production, including movies, games, news, advertising, architecture, engineering, training and simulation, and defense.
TurboSquid's VR Lab reviews the latest Virtual and Augmented Reality hardware and software in order to establish best methods and practices for the production and use of immersive 3D content.