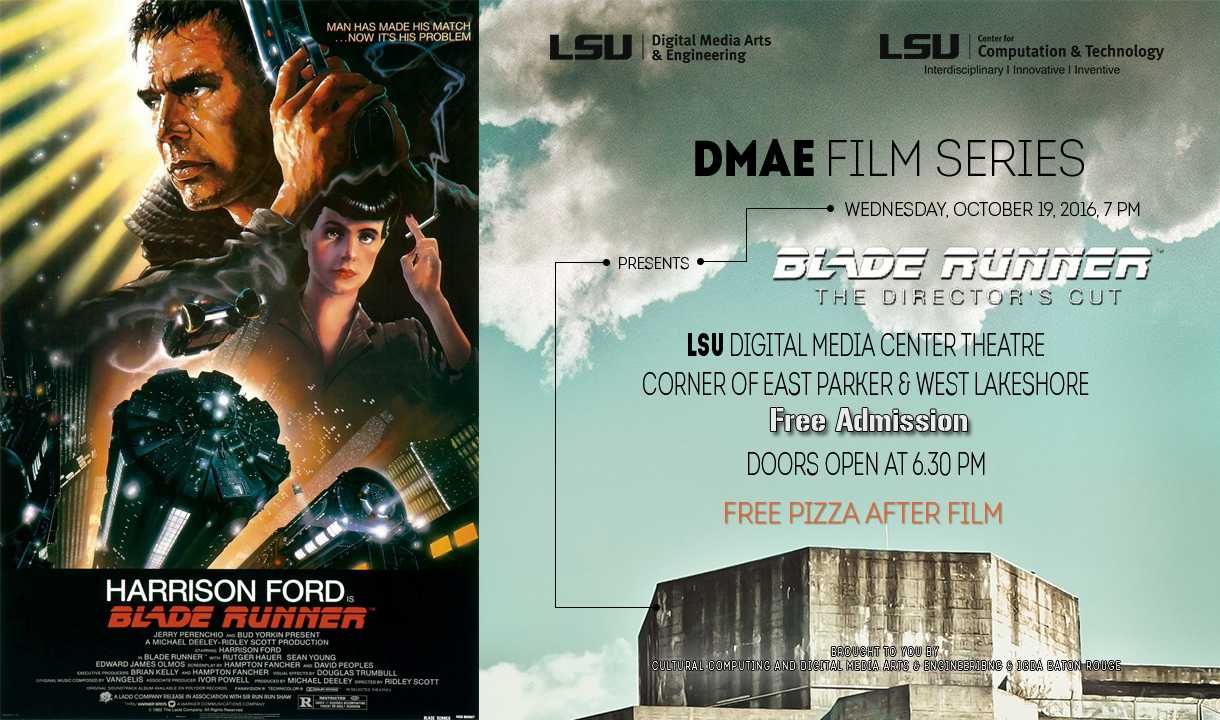 October 19, 2016 - Invalid date
Blade Runner (the Director's Cut)
DMAE Film Series
DMC Theater
LSU , Digital Media Center (DMC),

Baton Rouge
October 19, 2016 - 7:00 PM until:
Invalid date - Invalid date
Blade Runner (the Director's Cut)
Join us on Wednesday, October 19th at LSU a FREE showing of Blade Runner (the Director's Cut), one of the visually defining films in establishing the modern science fiction genre. Doors open at 6:30 pm at the Digital Media Center on the LSU campus. For those who attend there will be FREE PIZZA after the showing.
The movie was made years before digital effects came into existance and it remains a testament to what can be done in camera, with matte paintings, and miniature models. They used motion control rigs and did as many as 16 passes for some of the more complicated shots. The movie's themes and visual style still resonates today, nearly 34 years after the origina theatrical release.
"A blend of science fiction and noir detective fiction, Blade Runner (1982) was a box office and critical bust upon its initial exhibition, but its unique postmodern production design became hugely influential within the sci-fi genre, and the film gained a significant cult following that increased its stature.
Harrison Ford stars as Rick Deckard, a retired cop in Los Angeles circa 2019. L.A. has become a pan-cultural dystopia of corporate advertising, pollution and flying automobiles, as well as replicants, human-like androids with short life spans built by the Tyrell Corporation for use in dangerous off-world colonization. Deckard's former job in the police department was as a talented blade runner, a euphemism for detectives that hunt down and assassinate rogue replicants...
In 1992, Ridley Scott released a popular director's cut that removed Deckard's narration, added a dream sequence, and excised a happy ending imposed by the results of test screenings; these legendary behind-the-scenes battles were chronicled in a 1996 tome, Future Noir: The Making of Blade Runner by Paul M. Sammon. ~ Karl Williams, Rovi"