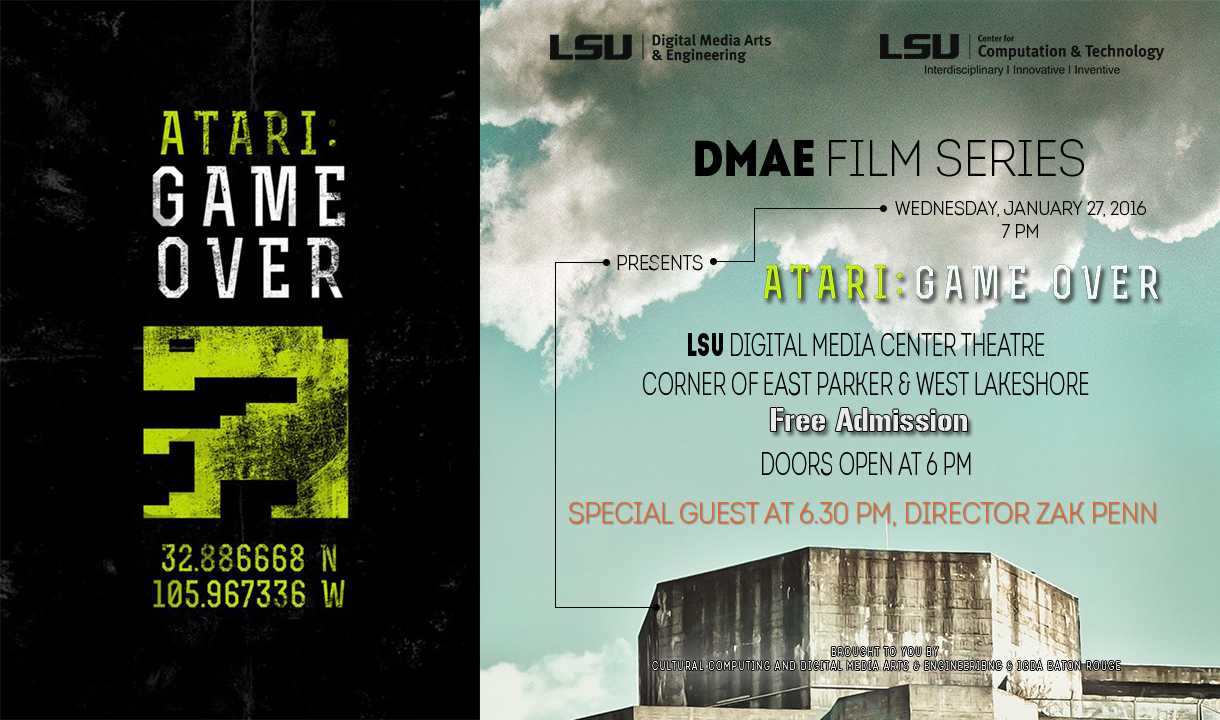 January 27, 2016 - Invalid date
Atari Game Over
DMAE Film Series
DMC Theater
LSU , Digital Media Center (DMC),

Baton Rouge
January 27, 2016 - 6:30 PM until:
Invalid date - Invalid date
To kick off global game jam at LSU we are featuring a peak into one of the most turbulent times in the video game industry. Revenues in 1983 went from around $3.2 billion to $100 million in 1985, a drop of almost 97 percent. Many thought that video games were a fad and that the industry would fade away.
Director Zak Penn will be answering questions about the movie or his other work before the screening of the film. Zak is an established screenwriter who has written on X-Men: The last Stand, The Incredible Hulk and the upcoming Ready Player One.
"...Game Over is a breezy, engaging documentary peppered with delightful interviews with game industry vets such as Nolan Bushnell, Manny Gerard and Seamus Blackley. Its subject matter may seem light at first but Game Over manages to wrap a solid historical perspective around an unexpected emotional core.
The heart of the movie isn't the garbage dump archaeology trip at all, though that's the primary marketing draw. Game Over is far more concerned with designer Howard Scott Warshaw, who created E.T. the game. In just five weeks this man singlehandedly produced the game that supposedly destroyed the fastest growing company in American history. For the past 30 years Warshaw has therefore shouldered the blame for bringing down Atari's empire and inciting the great gaming crash of 1983.
The defense of Warshaw and his creation is Game Over's most noteworthy contribution. The dig is just window dressing. It's enticing and fun, sure, but it has no real meat or mystery. Certainly it informs no important opinions or arguments. It's just a spectacle, drawing legions of fans and celebrity nerds like Ernest Cline to watch events unfold. It's active and exciting and, thanks to a fortuitous sandstorm, even mirrors aspects of two other Spielberg films, Raiders of the Lost Ark and Close Encounters of the Third Kind. Penn is more than happy to play up those ties, often to humorous effect. But he's commendably more interested -- as should all devotees of video game lore be -- in noting that Raiders was itself adapted into an acclaimed, million-selling game designed by none other than Howard Scott Warshaw." - Adam Dileo (IGN)