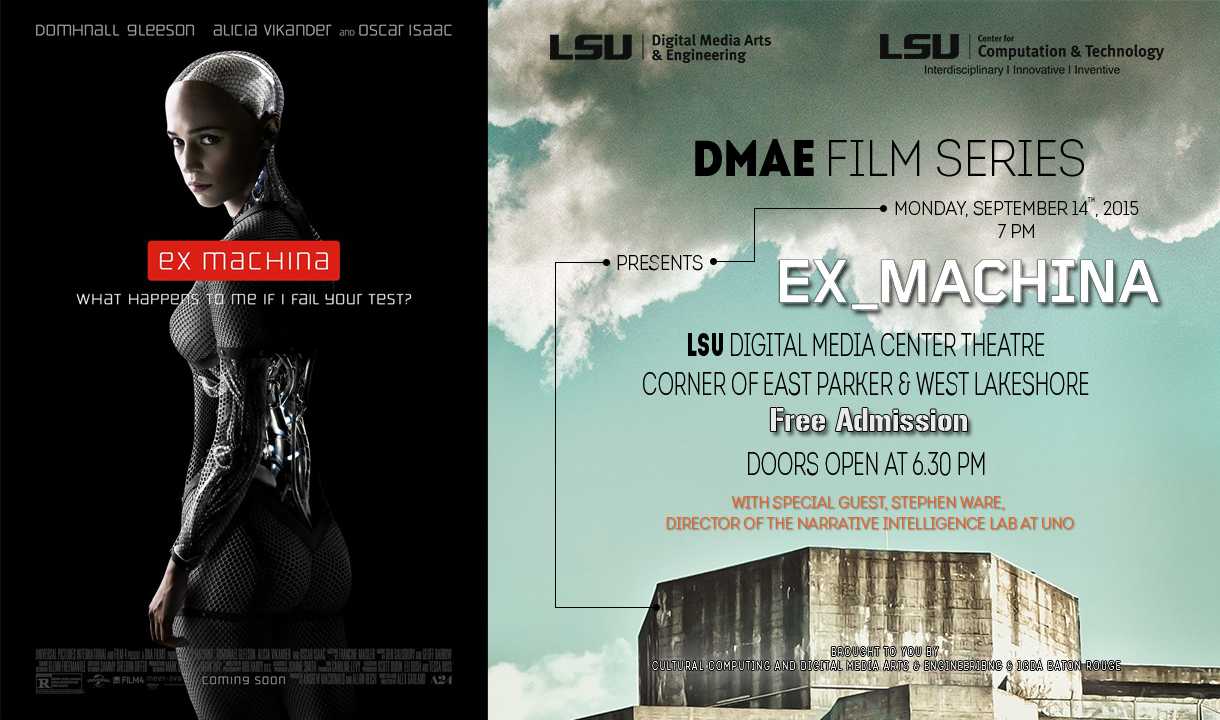 September 14, 2015 - Invalid date
Ex Machina
DMAE Film Series
DMC Theater
LSU , Digital Media Center (DMC),

Baton Rouge
September 14, 2015 - 7:00 PM until:
Invalid date - Invalid date
Please join us for a FREE movie night at the Digital Media Center at LSU. We will be featuring Ex Machina and will include a talk by the Director of the Narrative Intelligence Lab at UNO, Stephen Ware.
DMAE Film Series
Next Screening: Monday, September 14th, 2015; 7:00PM (doors open at 6:30pm) Film Title: Ex Machina (2015) Guest Speaker: Director of the Narrative Intelligence Lab at UNO Where: Digital Media Center Theater
"Ex Machina," the directorial debut by novelist and screenwriter Alex Garland ("28 Days Later," "Sunshine"), is a rare and welcome exception to that norm. It starts out as an ominous thriller about a young programmer (Domhnall Gleeson) orbiting a charismatic Dr. Frankenstein-type (Oscar Isaac) and slowly learning that the scientist's zeal to create artificial intelligence has a troubling, even sickening personal agenda. But even as the revelations pile up and the screws tighten and you start to sense that terror and violence are inevitable, the movie never loses grip on what it's about; this is a rare commercial film in which every scene, sequence, composition and line deepens the screenplay's themes—which means that when the ending arrives, it seems less predictable than inevitable and right, as in myths, legends and Bible stories.
Garland's screenplay is equally impressive, weaving references to mythology, history, physics, and visual art into casual conversations, in ways that demonstrate that Garland understands what he's talking about while simultaneously going to the trouble to explain more abstract concepts in plain language, to entice rather than alienate casual filmgoers. (Nathan and Caleb's discussion of Jackson Pollock's "automatic painting" is a highlight.) The performances are outstanding. Isaac's in particular has an electrifying star quality, cruelly sneering yet somehow delightful, insinuating and intellectually credible. The ending, when it arrives, is primordially satisfying, spotlighting images whose caveman savagery is emotionally overwhelming yet earned by the story. This is a classic film." - Matt Zoller Seitz, rogerebert.com