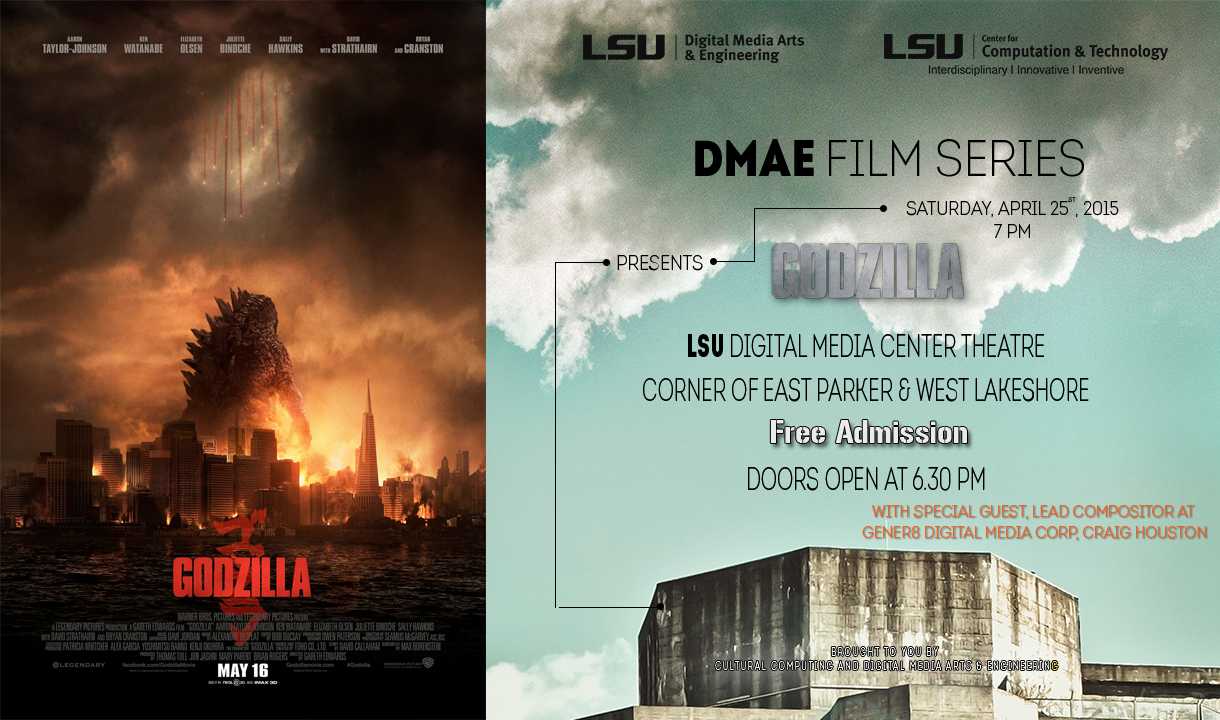 April 25, 2015 - Invalid date
Godzilla (2014)
DMAE Film Series
DMC Theater
LSU , Digital Media Center (DMC),

Baton Rouge
April 25, 2015 - 7:00 PM until:
Invalid date - Invalid date
Come unwind and join us for a FREE movies at the Digital Media Center at LSU. We will be featuring Godzilla and will feature a talk by Visual Effect Artis, Craig Houston who will discuss the ins and outs of stereoscopic compositing. This is open to the general public.
With stereoscopic production becoming more and more common (Oculus announced a film production wing), stereoscopic compositing is affecting how movies are shot and post produced. Come listen to Gener8's Craig Houston and find out how this affects movie productions moving into the future. For anyone interested in film post production, compositing and Nuke - this is a must see screening.
"Director Gareth Edwards mimics the original in playing coy with the title monster—and mimics its Americanized forebear by shifting much of the action and heroism stateside. But for those with a high tolerance for action-movie bingo and CGI carnage, Godzilla's reverence for the King of the Monsters oozes from every track mark, snapping cable and thundering footstep.
Because here, Godzilla's most important character is the radioactive sea-dweller. The lumbering legend's rendered in painstaking detail, from jagged spikes to melancholy mien. It's a microcosm of the movie's visual thoughtfulness; Edwards has a knack for the frame within the frame—rearview mirrors reflecting eerie abandoned streets, windows offering incomplete glimpses—to heighten both the atmosphere of dread and in-the-moment tension, so that the final standoff captures some real thrill. It might not be enough to clean up all the loose ends, but for monster-movie fans, Godzilla offers a loving look at the old guy back on the big screen. " - Genevieve Valentine, Philadelphia Weekly