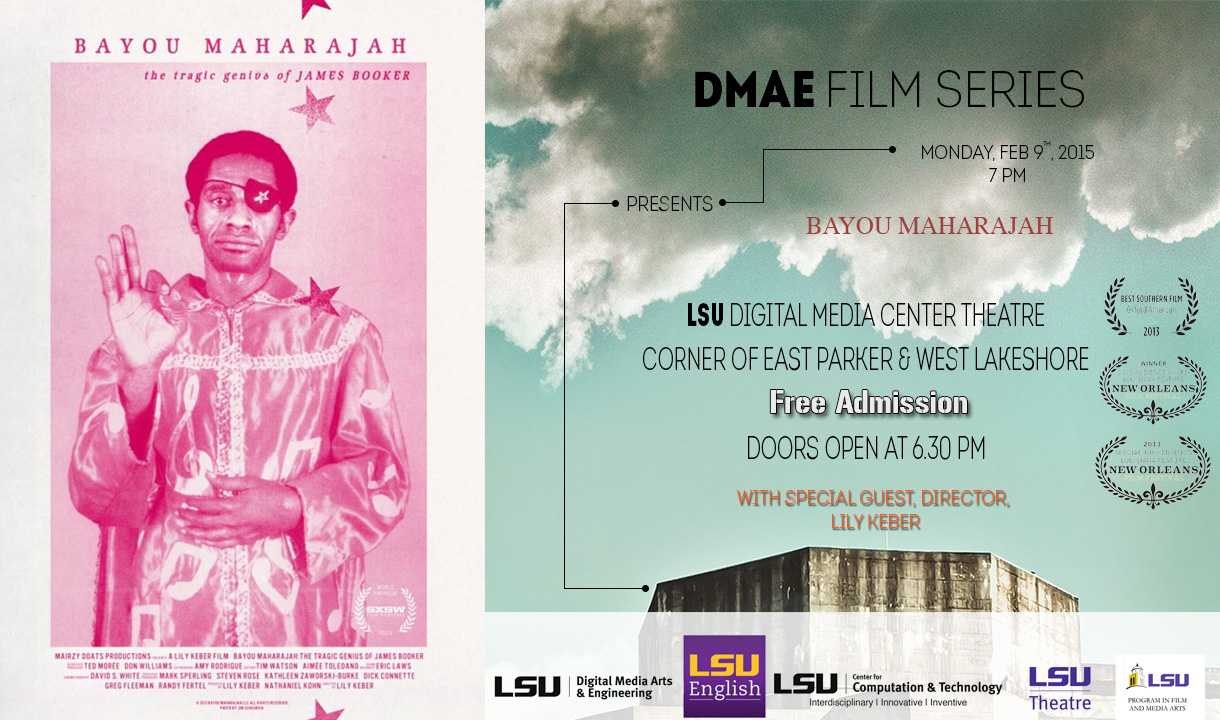 March 11, 2015 - Invalid date
Bayou Maharajah
DMAE Film Series
DMC Theater
LSU , Digital Media Center (DMC),

Baton Rouge
March 11, 2015 - 7:00 PM until:
Invalid date - Invalid date
LSU, CCT, DMAE, LSU English, LSU Theater and LSU Program in Film and Media Arts are proud to announce a night of FREE movies at the Digital Media Center at LSU. We will be featuring Bayou Maharajah and will feature a talk by Director Lily Keber on making and producing this award winning documentary feature length film.
"The first time I heard the name James Booker, I was bartending at Vaughan's, a 9th Ward dive bar in New Orleans. The day shift was slow, so I'd play the jukebox to pass the time. When Booker came on, the clientele would light up and start telling stories about the time they saw Booker at JazzFest in his Piano Pope costume. Or about how he used to play improvised solo soundtracks for the silent porn movies in the afternoon in the French Quarter. Or the time that he held a cap gun to his head and declared that he wouldn't play another note until someone brought him some cocaine.
Amidst the clutter of aging portraits and RIP notices and dusty vodka bottles, Vaughan's has a stuffed deer head wearing an eye patch with a star emblazoned on it. Everyone who talked about Booker pointed to the deer head whenever they mentioned his name. For a long time, I assumed that these people must be drunk and making up stories. The persona they were describing was too bizarre to be true: A New Orleans cat who was as likely to play Rachmaninoff as Fats Domino? A guy who played with Little Richard and Aretha Franklin and Ray Charles and Ringo Starr, but who no one else on the planet knows about? Every conversation seemed to end with: "And the man was a ... genius."
That was my introduction to James Booker. The more I learned about him, though, the more intriguing the story got. He gave Harry Connick, Jr. piano lessons, supposedly to curry favor with Harry Connick, Sr.— the District Attorney of New Orleans at the time— despite the fact that Booker was a renowned drug user. He taught Dr. John how to play the Hammond organ. Hunter S. Thompson loved his song "Gonzo" so much that he named his style of journalism after it. Yet there was next to nothing about him online. His albums were out of print and even bootlegs were hard to come by.
James Booker's life traces a line through some of the great socio-political movements of the 20th century. He played piano on legendary New Orleans R&B singles in the 1950's and was one of the first African-American musicians to integrate the New Orleans airwaves. He was among a handful of American solo acts to play behind the Iron Curtain. His style seamlessly combines jazz, R&B, soul, gospel, classical, and New Orleans rhythms, synthesizing each into a sound that transcends the confines of genre. Every person whose life he touched, despite how frustrating he might have been at the time, remembers Booker with great kindness and a smile.
James Booker was, first and foremost, one of America's finest and most innovative musicians. But as a gay, bipolar Black man with one eye and a drug and alcohol problem, Booker was never going to make it to prime time. Yet in spite of all that – or perhaps because of it – his music pushes the boundaries of what is possible on the piano with an intricacy that surpasses Chopin. It was this complexity that attracted me to Booker. I needed to find out how a man could be both barely tolerated and completely loved – and how his music might make that possible.
I have structured "Bayou Maharajah"— one of Booker's many nicknames—as Booker might structure one of his gigs: unexpectedly but seamlessly moving among disparate themes, never quite sure which rabbit hole we're going down next, nor how long we're going to stay there. He was a man on the edge, embracing the magical as he touched the hearts of all who heard him.." - Lily Keber, Director