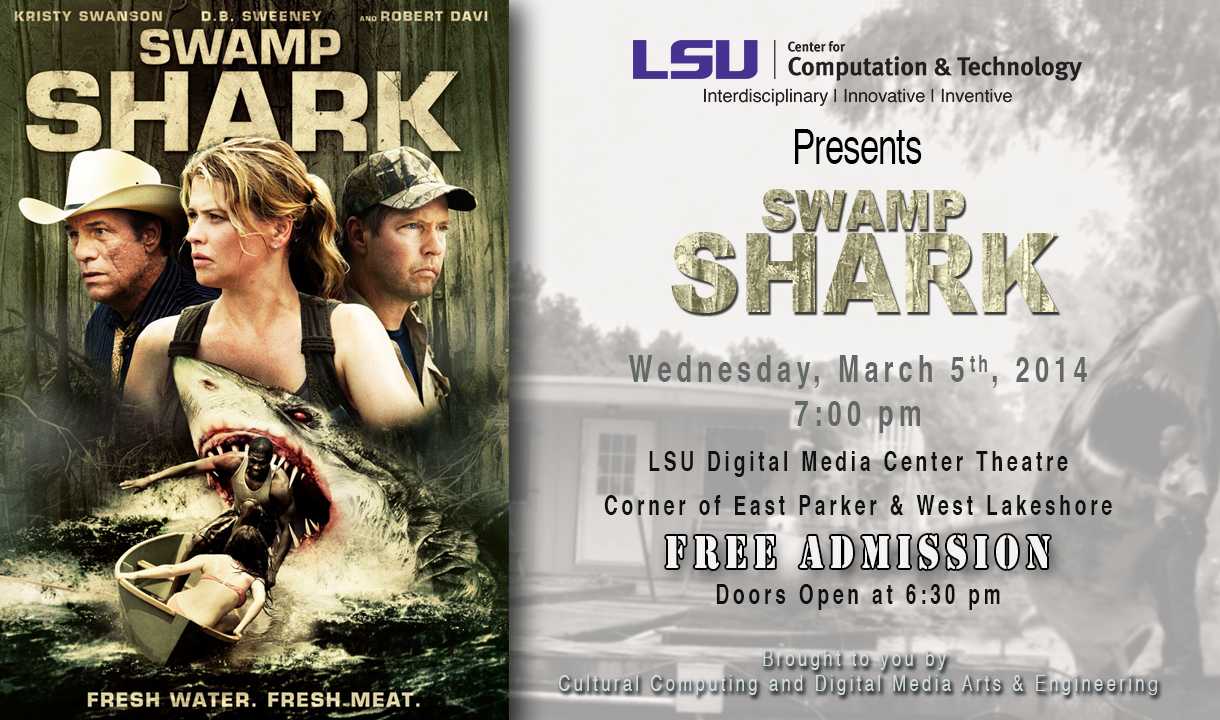 March 05, 2014 - Invalid date
Swamp Shark
DMAE Film Series
DMC Theater
LSU , Digital Media Center (DMC),

Baton Rouge
March 05, 2014 - 7:00 PM until:
Invalid date - Invalid date
Film Title: Swamp Shark
Where: Digital Media Center Theatre
Digital Media Arts & Engineering and Cultural Computing at the LSU Center for Computation & Technology, is happy to present Swamp Shark, Wednesday, March 5, 2014, at 7:00 PM, at the LSU Digital Media Center Theatre. Doors will open at 6:30 pm. The showing is free, open to all, and seating is on a first come first serve basis—so come early to guarantee a good seat. Please remember that no drinks or food are allowed in the theatre.
Plot Summary
"Open on gorgeous swamplands of the Atchafalaya Basin in the summer. Lots of beautiful teens are at the beach the weekend before Gator Fest. That night an animal smuggling deal goes wrong and a large sea creature escapes into a swampy backwoods river. At the McDaniel's "Gator Shack" restaurant, a local, Jackson is drunk, and gets mangled to bits. The town sheriff blames the carnage on the McDaniel's "escaped" pack of gators and tries hauling them off to jail. Rachel McDaniel, head of the family, claims to have seen the fin of a shark! Rachel and her family, along with the help of a mysterious stranger, Charlie, take on the Swampshark and the law to clear their names, save Rachel's kid sister Krystal and prevent the unwitting folks at the upcoming Gator Fest from being torn to shreds by a beast the likes of which no one has ever seen!" - rottentomatoes.com
Relevance Being a self sufficient producer of media content is often an uphill battle. The producer has had a long track record in smaller local productions with headquarters in the state of Louisiana. Swamp Shark was developed and produced by Active Entertainment, a Louisiana based film provider that has produced over 10 feature films for various markets. Swamp Shark was produced for SyFy network and was shot in Louisiana.
Guest Speaker Daniel Lewis, Active Entertainment. Active Entertainment has been developing, financing, producing and distributing feature films since 1993. It is one of the industries oldest and most consistent feature film providers operating in the independent film and television marketplace. Its Louisiana operations have produced and provided services for 30+ films over just the past six years. Active Entertainment is capable of providing a wide range of solutions for projects ranging from small to large budget feature films along with television series and reality show production. Active is currently developing and producing content for A+E, Lifetime, SyFy, and Hallmark, as well as product for the independent theatrical marketplace.
In early 2009, Daniel Lewis joined Active Entertainment's Louisiana studio operations in the position of COO. Since his arrival, he has helped to shape the firm's consistent growth and has enabled the company to build its roster of professionals in the production, finance and post-production areas. Daniel has served as producer and executive producer on a number of the company's films including "Maskerade," "Swamp Shark," "Christmas on the Bayou," and "Status: Unknown". Daniel has been actively involved in over 50 productions since joining the film industry in 2006.
Mr. Lewis is a 2004 graduate of Louisiana State University.